Ribollita, A Tuscan Memory of Cabbage Soup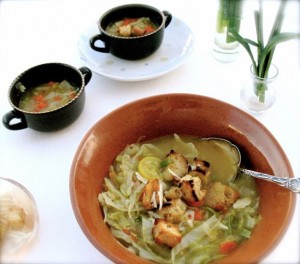 1 Cabbage head ,sliced into long strips
3 Carrots, chopped finely into small cubes
1 onion, chopped finely
1 Leek, sliced
2 Yellow squash sliced
1 Potato, diced
1½ cup Cannellini beans, cooked
2 Cloves garlic
2 Celery stalks chopped finely
8 cups Vegetable Broth (recipe below)
¼ Olive oil (reserve some for drizzling into bowl)
Pecorino cheese (or good parmesan)
Croutons (see instructions)
Red chile flakes
Sea salt, black pepper
8 cups filtered water
juice of one lemon
large chopped pieces, carrots, onion, celery
garlic clove smashed
mix of herbs, parsley, thyme or basil (no cilantro)
sea salt
black pepper
In a large heavy pot, put in everything except squash which I saved for closer to end. Bring to boil and then simmer until cabbage is cooked.
Boil veggies until soft, perhaps even melting into water to start with a really fragrant broth. On the second day, I used a hand blender to blend it, while leaving it slightly chunky.
This particular bread is from the master recipe from Artisan Bread in FIve Minutes. You can use any crusty bread. Just coarsely chop bread and include crust.
Spray with water, and bake at 450 on baking stone until done, about 7-10 minutes. Rub with garlic glove as soon as you take out of oven.
I used (from freezer) a homemade chicken stock. This is not necessary, and you can use a quickly made homemade vegetable broth, or use a good organic boxed broth.
Recipe by
Spinach Tiger
at https://spinachtiger.com/ribollita-a-tuscan-memory-of-cabbage-soup/