Grain Free Cupcakes, Sugar Free, Keto, Low Carb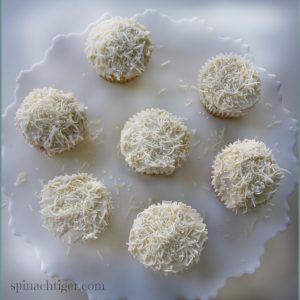 ¾ cup coconut flour
½ teaspoon baking soda
½ teaspoon baking powder
⅓ cup milk (I use coconut milk)
½ cup oil (I use avocado oil)
6 eggs
3 tablespoons sour cream
½ teaspoon coconut extract
1 teaspoon vanilla extract
½ teaspoon freshly ground nutmeg (optiona)
½ cup unsweetened coconut
½ cup Swerve or sugar
5 drops stevia glycerite
8 ounces full-fat cream cheese softened
10 tablespoons unsalted butter, softened
1 cup sifted Swerve Confectioner's Sugar or powdered erythritol
1 teaspoon vanilla
¼ teaspoon coconut extract
1 tablespoon heavy cream, coconut cream, or almond milk
½ cup unsweetened coconut for the garnish
5 drops Stevia glycerite
Mix the baking soda, baking powder, nutmeg, coconut flour together. Mix very well. set aside.
Add oil, milk, eggs, sour cream, vanilla to the dry mix. Add vanilla.
Mix well. This is a very easy cake to make.
Allow to sit for 5 minutes.
Spray cupcake liners. These do tend to stick.
Bake at 350 degrees for 13 to 15 minutes.
Cool completely before frosting.
Whip butter until very smooth. Add in cream cheese. Whip again until very smooth.
Add vanilla. Mix.
Add Swerve Confectioner's Sugar ¼ cup at a time, mixing well on medium low each time.
Add milk or cream only if necessary.
Spread on cooled cupcakes.
Top with coconut.
Refrigerate for an hour to meld the flavors if you are not going to refrigerate cupcakes. The taste of the frosting gets better once it's refrigerated as all the flavors come together.
You might want to make the frosting first, refrigerate, while you baking the cupcakes.
You can make more of a buttercream frosting with 1 cup butter, 2 tablespoons cream cheese, and 1 cup of Swerve, ½ cup coconut. It will depend on your preference. I've done both with this recipe.
Recipe by
Spinach Tiger
at https://spinachtiger.com/grain-free-coconut-cupcakes-sugar-free/