grain free ricotta cookies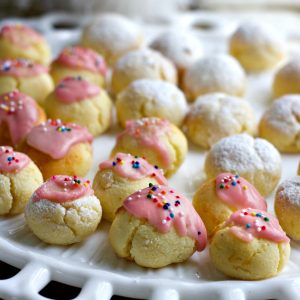 1 cup coconut flour
2 teaspoons baking powder
dash nutmeg
1 teaspoon orange zest or few drops orange extract
½ cup unsalted butter, room temperature
¾ cups Swerve Confectioner's sugar, divided (can use ½ cup sugar)
1 teaspoon vanilla
1 egg
7 ounces ricotta cheese
Glaze Option
Mix coconut flour with baking powder, nutmeg, orange zest. Set aside.
Cream butter and sugar until smooth.
Add egg until just mixed.
Add vanilla.
Add ricotta cheese.
Add in flour mixture.
Refrigerate at least 30 minutes
Roll into 30 small balls, about one inch in diameter. Place on parchment paper on baking sheet.
Put back into refrigerator for at least 30 minutes.
Bake at 350 for 10 minutes or until bottoms are golden brown.
Roll in confectioner's sugar or cool and apply glaze.
Glaze Option
cup confectioner's sugar (I use Swerve)
few teaspoons of either milk or for color unsweetened cranberry juice
Mix well. Add more sugar if too runny.
Put sprinkles on immediately. The glaze dries quickly.
Serving size:
1
Fat:
5
Carbohydrates:
2
Fiber:
1
Protein:
2
Recipe by
Spinach Tiger
at https://spinachtiger.com/coconut-flour-ricotta-cookies-low-carb/