How to Make Cauliflower Rice for Chicken and (Cauliflower) Rice Dish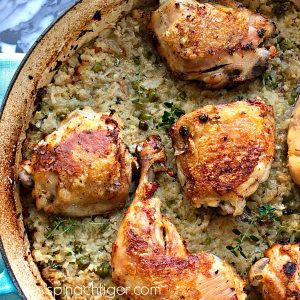 6 to 8 pieces of chicken
2 tablespoons coconut or avocado oil
1 head cauliflower or 4 cups of frozen riced cauliflower
2 tablespoons Irish butter (or healthy oil)
3 shallots, diced (or ½ cup diced onion)
1 cup frozen peas (optional: skip if doing keto)
½ cup chicken broth
2 tablespoons chopped fresh parsley or fresh thyme
salt
pepper
Trim cauliflower and cut into large pieces.
Place in a food processor and pulse until the pieces are slightly larger than actual rice.
Brown chicken on medium to high heat, just enough to brown the skin.
Saute shallots in butter on top of stove in large cast iron pan or pan that can be put directly into oven. (see notes).
Add to cauliflower/
Stir in Cauliflower rice and frozen peas.
Add herbs and season with salt, pepper.
Place chicken on top of rice. Place in oven.
Bake for about 40 minutes at 375 until the chicken reaches 165 degrees F. and skin is golden.
This is a one pan dish if you have a large cast iron frying pan or shallow enameled cast iron pan. However, if you don't, transfer cauliflower rice and chicken onto a shallow baking pan before baking.
Recipe by
Spinach Tiger
at https://spinachtiger.com/make-cauliflower-rice-chicken-cauliflower-rice/