Italian Chicken Thighs with Peppers, Onions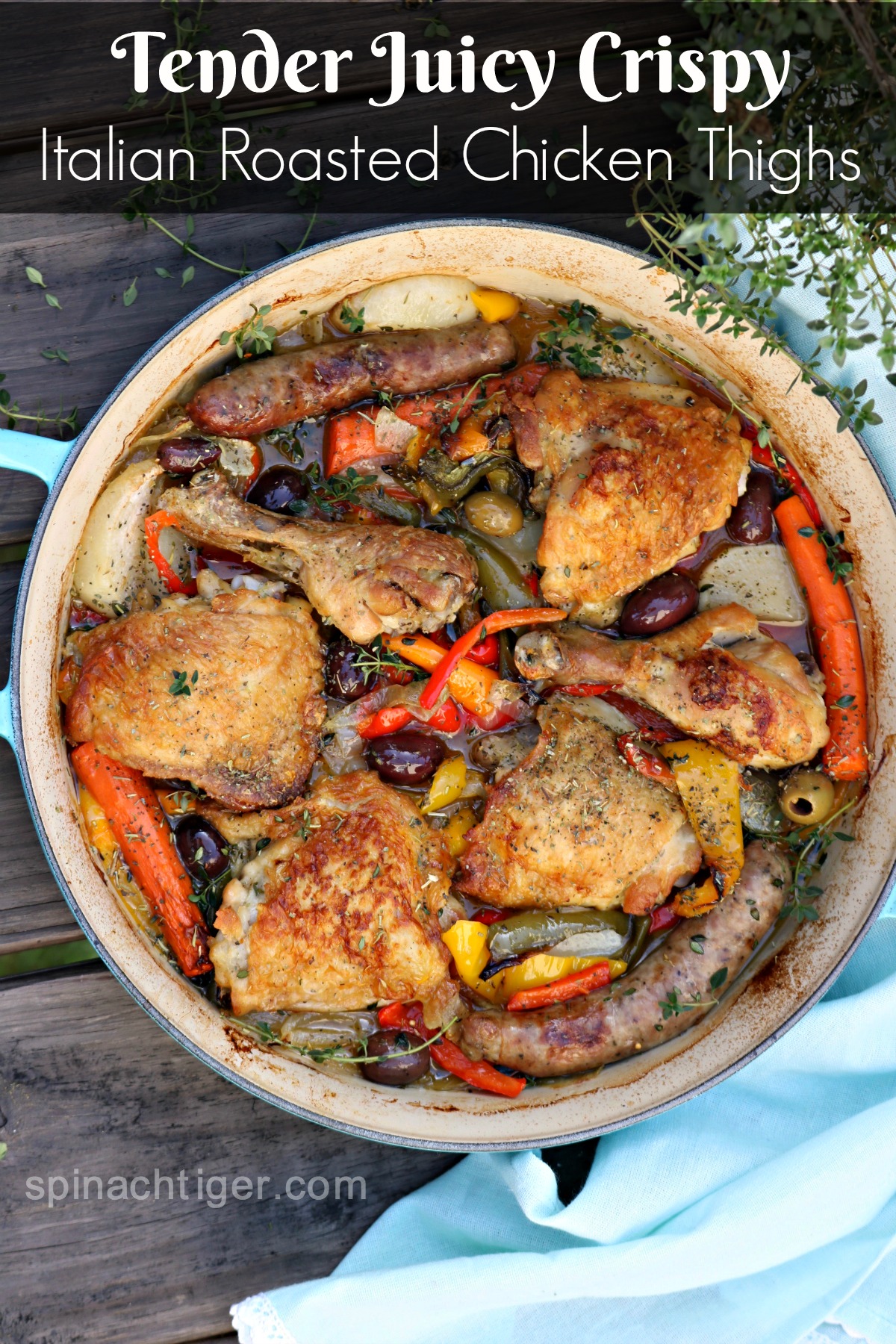 avocado oil or coconut oil
4 chicken thighs
2 drumsticks (or more thighs)
2 Italian Sausage links (see notes)
1 large Vidalia onion
3 large bell peppers of various colors (see notes)
8 cloves of garlic
2 turnips, peeled and cut into quarters or smaller (or potatoes)
1 teaspoon (or more) of herbs de provence
salt
pepper
Salt chicken thighs for one hour, leaving out at room temperature if you have time.
Heat oil in large frying pan. Brown chicken on medium high until the skin is browned. I do this because the skin doesn't get as crispy in the oven. This will aid in that.
Clean out pan if this is the pan you are using to roast. A big cast iron braiser, roasting pan, or sheet pan will also work.
Slice onions, medium thickness about ¼ inch.
Seed and slice peppers into strips.
Peel garlic cloves.
Layer the onions, peppers, chicken. The juice from the chicken will fall into the vegetables.
Add garlic cloves whole.
If adding sausage, add in raw sausage links.
Add turnips.
Add olives.
Bake at 375 degrees F. for 45 -60 minutes until the sausage and onions are caramelized.
You don't have to include Italian sausage to make this dish. We don't always do that, but it's really awesome if you do.

As far as peppers and onions, you can add more. They will cook down considerably.
Recipe by
Spinach Tiger
at https://spinachtiger.com/italian-roasted-chicken-thighs-with-peppers-onions/