Low Carb Cheesecakes with Almond Flour Crust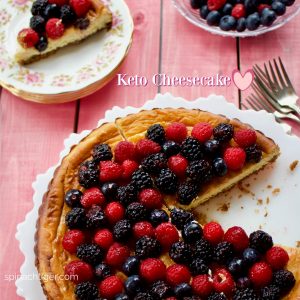 32 ounces organic cream cheese, room temperature (see notes)
1 cup organic sour cream (250 ml)
2 large eggs
3 large egg yolks
2 cups confectioner's Swerve ( powdered erythritol) (see notes)
1 tablespoon vanilla
zest of one lime or lemon
juice of lime (see notes)
½ teaspoon lemon extract ORDER HERE
20 drops liquid stevia Order Here
Almond Pecan flour Crust Recipe
For Bottom Crust
2 cups almond flour RECIPE HEREor ORDER
⅓ cup pecans or almonds (optional)
⅓ cup melted butter
1 teaspoon vanilla ORDER HERE
1 tablespoon Swerve (or sugar)
! Make Almond Crust
Put pecans in food process until crushed into small pieces.You don't have to add in crushed nuts.
Add almond flour, melted butter, vanilla and swerve.
Pat down into a 8 or 9-inch springform pan. You may not have enough to go up the sides. Don't worry about that. Jab with fork.
Bake for 10 to 15 minutes until done. Set aside to cool.
Using a food processor, or a mixer, mix cream cheese until it is very smooth.
Add in sour cream, eggs, zest, swerve and liquid stevia. Mix well.
Add vanilla. Add lemon extract (if using)
Add eggs until just mixed.
Pour into prepared pan.
Bake at 325 degrees for up to 1 hour, 15 minutes or until the outside is set and the middle still jiggles a little. It will continue to cook.It will get a golden brown.
Turn oven off. Open oven door. Leave in for an hour.
Take cheesecake out. Allow to cool for two hours.
If you want sour cream on top, spread on after cooling and before refrigeration.
Refrigerate for at least six hours or overnight.
Serve as is, or with berries.
You can opt out of lime juice if you don't have it.
To Make this cheesecake sky high, bake in an 8 inch cheesecake pan.
Recipe by
Spinach Tiger
at https://spinachtiger.com/low-carb-cheesecake-recipes-almond-flour-crust/