Energy Balls Recipe with Oats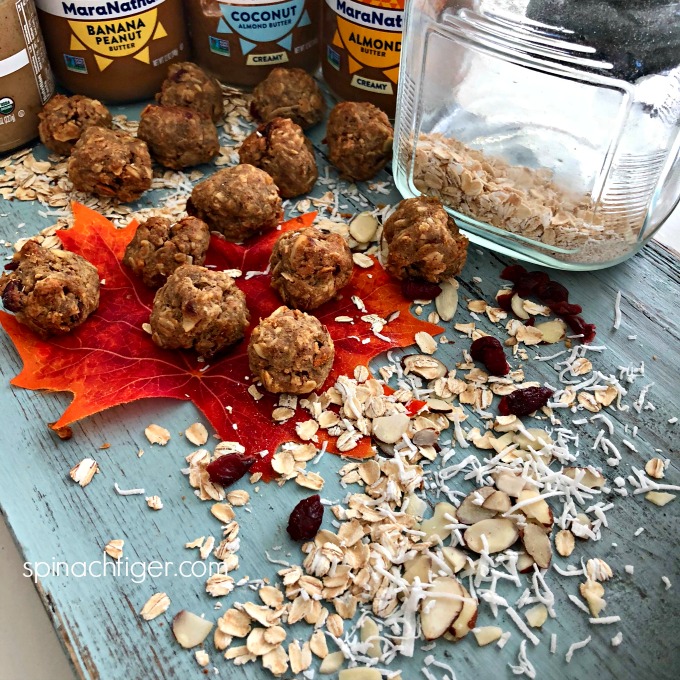 Recipe type:
Healthy Snack
This Recipe contains Amazon Affiliate Links which earn a small commission.
Preheat oven to 350 F. (180 c, gas 4)
¼ cup grass-fed butter
½ cup gluten free oats
4 tablespoons powdered erythritol (divided) see NOTES
1 tablespoon cinnamon
dash freshly grated nutmeg
¼ cup dried unsweetened coconut ORDER HERE
4 tablespoons crunchy Nuttzo or almond butter ORDER HERE
⅓ cup coconut flour (or flour of your choice) ORDER HERE
1 teaspoon xanthum gum ORDER HERE
½ teaspoon baking powder
1 teaspoon sea salt
2 tablespoons dried cranberries or golden raisins (chopped) (optional)
1 small egg, beaten
Melt butter in frying pan. Add oats and sauté until golden. Mix with 1 tablespoon brown sugar.
Once oats are toasted, remove from heat. Allow to cool for at least ten minutes.
Mix flour, baking powder, xanthum gum, salt together.
Mix flour mixture with toasted oats.
Add cranberries or golden raisins if using.
Add in just enough beaten egg to bring the mixture together. It will still be loose.
At this point you can refrigerate overnight and make later.
Roll into 12 balls.
Bake for ten to 15 minutes. (Mine were done at 12 minutes.
Store in a cookie tin to keep texture. You can store in plastic bag, which will soften the energy balls.
Re: Powdered Erythritol. I used 2 tablespoons Swerve brown sugar, 2 tablespoon Swerve Granulated. You can use all granulated if you don't have the brown sugar.

Nuttzo is a 7 nut & seed butter. You can use an almond butter and add in some chia seeds for extra texture.

Nutrition values are with almond butter and no raisins.
Serving size:
1/12
Calories:
116
Carbohydrates:
8
Sugar:
1
Fiber:
3
Recipe by
Spinach Tiger
at https://spinachtiger.com/energy-balls-recipe-with-oats-almond-butter-sugar-free-low-carb/