Meatball Lasagna, A Retro Rose Collaboration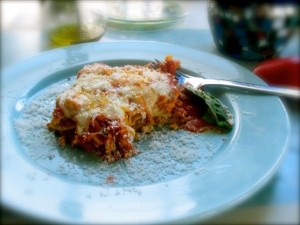 olive oil
onion, quartered
2 cloves garlic
1 green pepper, diced
3 tablespoon tomato paste
4 cans Italian tomatoes
A few basil leaves
1 carrot or 2 T sugar
big dash cinnamon
salt, pepper
Instructions
The Meatballs made here
Package "no boil" lasagna noodles
1 pound ricotta fat cheese (do not use non-fat)
1 egg, slightly beaten
¼ parmigiana reggiano cheese
¼ cup mozzarella cheese, coarsely grated
¼ cup asiago cheese, coarsely grated
¼ cup Italian flat leafed parsley, finely chopped
pinch nutmeg, grated
salt and pepper
Tomato Sauce, Meatballs, Cheese Filling
2 cups mozzarella cheese or as needed to top lasagna
grated Parmigiano reggiano
You will use three layers of pasta, two layers of filling.
In a large pot, add olive oil, garlic and onion. Once garlic and olive oil is cooked, remove, discard.
Add in green pepper and when soft, add in tomato paste. Once heated through and mixed well with olive oil, start to add puree from tomatoes. To make puree, squeeze within colander over a bowl. You should be able to get about ⅚ of the puree back from good tomatoes. Add 2 cans of water.
Add remaining ingredients and allow to simmer for 1-2 hours until thickened.
In the meantime, bake meatballs and add to sauce.
Mix everything except the egg and taste. Once satisfied with the seasoning, add the egg and mix.
Day One: Make Tomato Sauce and 12 large meatballs the day before and allow flavors to meld overnight in fridge.
Day Two: Mix ricotta cheese filling.
Heat sauce, slice cold meatballs
tomato sauce
packages lasagna noodles (you won't use them all)
Meatballs (recipe here)
Put meatballs on both inside layers, randomly, then spread cheese randomly. Some bites have more meat, some have more cheese. Do this with both layers. Add mozzarella cheese. This made enough lasagna for an average sized lasagna pan and enough for a small bread pan.
Bake at 375 for 45 minutes or until cheese is very melted, but not browned.
Allow to rest 20-30 minutes before cutting. You can use a warm tomato sauce to top when serving.
Notes:
One way to make this easier, is to freeze sauce and meatballs from your last spaghetti and meatball dinner. You can also make this in a "freezable baking pan" and make this in advance. You can use a tomato puree instead of canned tomatoes and follow instructions. Only partially boil if you choose to use lasagna noodles that you boil first. Don't use a crushed tomato for the lasagna. This recipe is best used with a smooth sauce. Don't use a non-fat ricotta cheese. It makes a difference.
Recipe by
Spinach Tiger
at https://spinachtiger.com/meatball-lasagna-a-retro-rose-collaboration/