Why You Need to Make Pistachio Pesto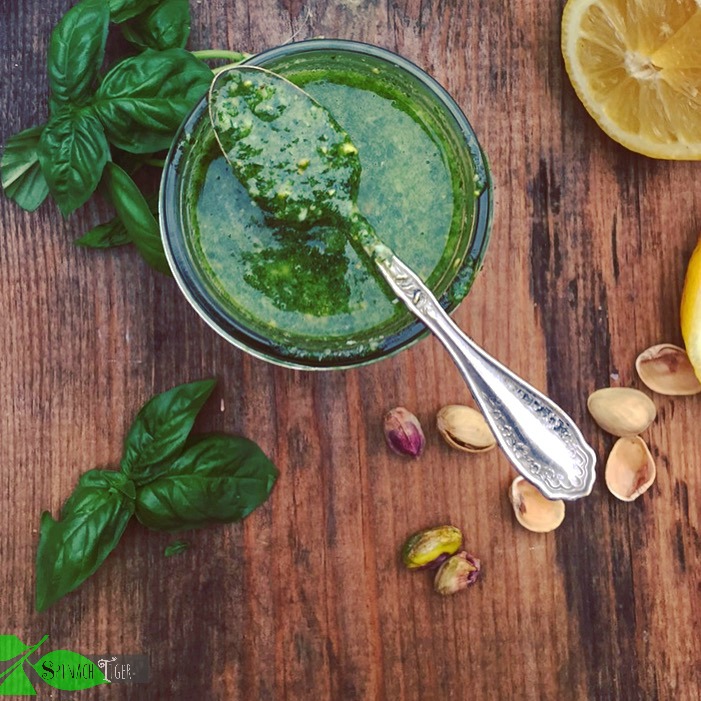 Recipe type:
Italian Sauce
2 cups tightly packed fresh picked basil leaves
½ cup extra virgin olive oil
3 tablespoon roasted salted pistachios
2 cloves of garlic, finely chopped before processing
2 tablespoons fresh lemon juice
dash of salt
¼ teaspoon freshly ground black pepper
For completion by hand
½ cup tablespoon freshly grated pecorino romano cheese
2 tablespoon butter
Place all ingredients except cheese into a food processor. You must chop the garlic first, which makes it much better to process and doesn't become a juice.
I don't like to use a food processor for this because I can pulse it and keep some texture, which I prefer.
Add the cheese by hand.
Regarding cheese, sometimes I just use pecorino romano. You can also use parmesan cheese.

If you are adding this to pasta, reserve some pasta water (3 tablespoons or so) a little at a time to extend the pasta.

You may also heat the pesto on very very low and add in heavy cream for a creamy pesto pasta.
Recipe by
Spinach Tiger
at https://spinachtiger.com/how-to-make-italian-pistachio-pistachio-pesto-how-to-freeze-pesto/