Dijon Roasted Purple Potatoes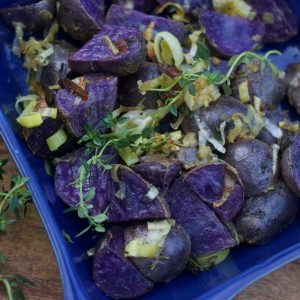 8 purple potatoes
¼ cup olive oil
1 tablespoon dijon mustard
juice of ½ lemon
1 large garlic clove, minced
1 leek, washing sliced
fresh herbs such as rosemary, lemon thyme, oregano (see notes)
Optional teaspoon dried herbs if you don't have fresh
salt
pepper
Scrub potatoes. Cut in quarters.
In a mixing bowl, whisk together, lemon juice, olive oil, garlic, dijon mustard.
Add potatoes, sliced leeks.
Season with salt and pepper and toss with half of the herbs.
Roast at 400 degrees F. for twenty minutes. Turn over at 10 minutes.
Once out of the oven, toss with remaining fresh herbs.
If using fresh herbs, consider what you are using. 3-4 tablespoons of a mix of fresh herbs is good. If using only rosemary, use less, as it's pungent. If using parsley, you can use as much as you like.
Recipe by
Spinach Tiger
at https://spinachtiger.com/healthy-lemon-dijon-roasted-purple-potatoes/