Best Tasting Gluten Free French Bread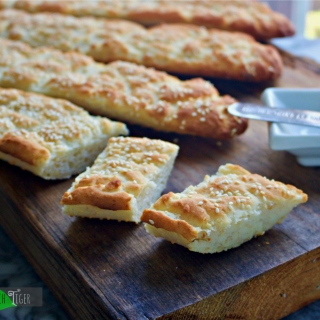 Recipe type:
Bread, Gluten Free
2 cups white rice flour Order Here
1 cup tapioca flour Order Here
3 tablespoons non-fat dry milk
2 tablespoons golden flax meal (optional)
1 tablespoon xantham gum
1 1⁄2 teaspoons salt
2 tablespoons sugar
1 1⁄2 cups lukewarm water 110 degrees F.
2 tablespoons rapid rising yeast
2 tablespoons softened butter
3 egg whites, beaten slightly (see notes)
1 teaspoon rice vinegar
2 teaspoons sesame seeds (optional)
Warm water to 110 degrees F.
Add yeast and sugar to the warm water.
Mix together flour, non-fat dry milk, golden flax meal, xantham gum, salt in a mixer fitted with a paddle.
Once the yeast mixture is bubbly, add to flour mixture.
Mix until incorporated.
Add vinegar to egg whites.
Add egg whites mixture, butter.
Mixture will be very sticky. That's okay.
I use this french bread pan and the bread does not stick. If you don't have this, make sure you use parchment paper.
Place batter into vessel you will be using. It is recommended that you use parchment paper that has been lightly greased on both sides, unless you use the perforated french bread pan I recommend above.
Top with sesame seeds if you are using at this time.
Using a lamè or very sharp knife, make diagonal slashes. Go from beginning to end and wipe batter off each time.
Preheat oven to 400 degrees.
Allow to rise for 25 minutes.
Before baking, you can brush with egg wash or melted butter if you desire.
Bake for 25 -30 minutes or until golden brown. If you make one large loaf in a cast iron pan or you make two loaves, you will have a longer baking time.
Allow to cool for at least ten minutes before cutting.
If you are using a gluten free flour that does not have xantham gum added in already, add 3 teaspoons.
Recipe by
Spinach Tiger
at https://spinachtiger.com/gluten-free-french-bread-gluten-free-italian-bread/