Purple Cauliflower Salad Recipe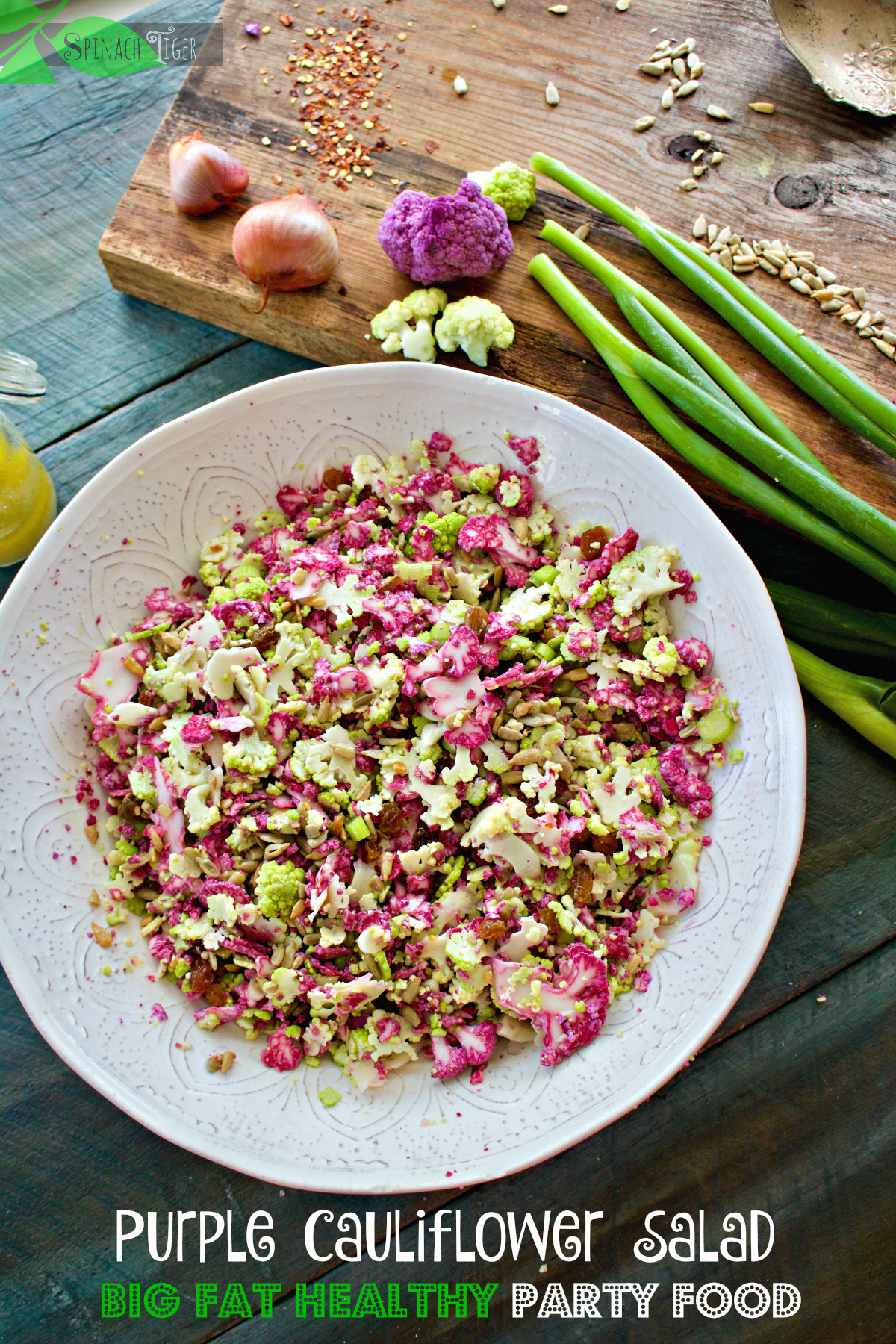 1 head purple cauliflower
1 head green cauliflower
1 cup chopped sunflower seeds (or chopped toasted walnuts)
⅔ cup golden raisins (can use dried cranberries)
4 bunches of scallions
1 cup walnut vinaigrette (see recipe below)
sea salt
pepper
red pepper flakes as needed
!Walnut Vinaigrette or Champagne Vinaigrette found here
2 clove garlic, minced
2 tablespoon dijon mustard
6 tablespoons walnut vinegar Order Here (can use white vinegar or champagne vinegar)
6tablespoons extra virgin olive oil
6 tablespoons walnut oil Order Here
2 teaspoon red pepper flakes
Cut out the bottom core of cauliflower. Discard
Slice cauliflower as thin as you can. Mandolin is best, but you can slice with good sharp knife.
Toss with vinaigrette.You will want the vinegar to be pronounced. I found that the cauliflower doesn't hold the vinegar taste.
Season with salt and pepper to taste.
Add in chile flakes.
Add golden raisins, chopped scallions, nuts, (reserve some nuts for garnish).
!Vinaigrette Instructions
Infuse olive oil with chopped garlic for 20 minutes.
Put mustard in a jar and mix well with vinegar.
Slowly add olive oil. Mix well.
Add red pepper flakes.
Season with salt and pepper.
Add nuts right before serving.
This is a recipe using two heads of cauliflower, making a lot of salad for a party.
You can cut this recipe in half. You can see what that looks like at this recipe.
Recipe by
Spinach Tiger
at https://spinachtiger.com/purple-cauliflower-salad-recipe-with-walnut-vinaigrette/