Thai Peanut Noodles with Chicken Skewer Recipe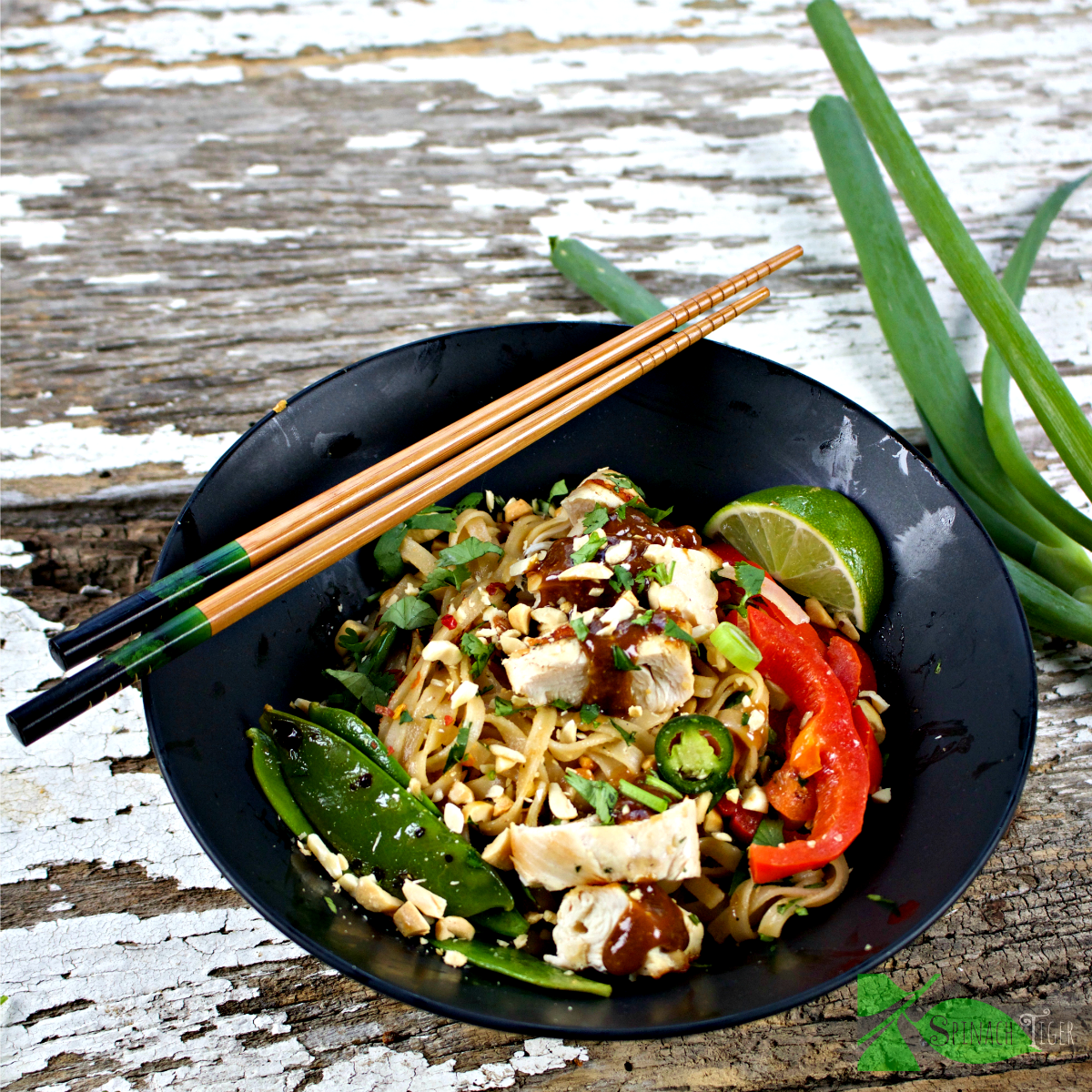 4 -6 chicken tenders (see notes)
juice of one lime
1 tablespoon olive oil
1 tablespoon coconut oil (or another tablespoon olive oil)
salt, pepper for seasoning
1 package rice noodles
1 red bell pepper, seeded, cut into thin two inch strips
1 serrano pepper, seeded, sliced
2 cups snow peas
!Thai peanut sauce
2 tablespoons chopped peanuts
2 scallions, sliced
cilantro for garnish
lime slices for garnish
red chili flakes (if you want to add extra heat)
!Thai Peanut Sauce
3 tablespoons soy sauce (or Tamari Sauce)
1 large garlic clove, minced
2 tablespoons honey
juice of 1 lime
½ cup peanut butter peanut butter
1 teaspoon sesame oil
2 tablespoons extra virgin olive oil (or avocado oil)
1 teaspoon red chile flakes, ground red pepper or ½ teaspoon chili oil
1 tablespoon freshly grated ginger
¼ cup chopped fresh cilantro
splash rice vinegar
Mix lime juice and olive together. Marinate the chicken tenders for at least one hour to overnight.
If using bamboo skewers, soak in water for 30 minutes to prevent burning.
Place on skewers, grill over medium low heat for about 4 minutes per side.
In the meantime, prepare sauce, boil water for rice noodles.
Place 1 tablespoon olive oil, coconut oil in a pan, and stir fry red bell pepper and snow peas until cooked through.
Cook rice noodles according to package directions.
Drain rice noodles, toss with half of the sauce.Reserve some sauce for pouring over chicken.
Garnish with scallions, cilantro, diced serrano and lime.
Add skewers to each bowl.
Mix all ingredients together. Heat on very low heat on top of the stove. You may find you need to add a little water to thin the sauce down if it's too thick.
[/b]
Serving size includes on large chicken tender. You can adjust this amount of meat.
You can get either 4 or 6 servings.
Recipe by
Spinach Tiger
at https://spinachtiger.com/thai-peanut-noodles-chicken-skewer-recipe/