Chicken Linguini Avocado, Tomato, Salsa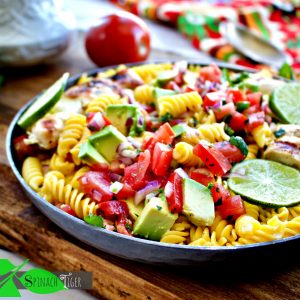 2 tablespoons olive oil
1½ limes
2 chicken breasts
1avocado
2 cups pico de gallo, recipe below
queso fresco (optional)
8 ounces gluten free pasta
!Homemade Pico De Gallo found here
6 roma tomatoes
3 tablespoons red onion, finely chopped (can use white onion or shallots)
2 tablespoons chopped cilantro
1 serrano or jalapeño pepper, seeded, minced
2 tablespoons chopped cilantro for garnish
heavy dash of salt
½ lime for garnish slices
Whisk olive oil, juice of one lime in bowl. Marinate chicken breasts one to three hours. If you find you're don't have time, just marinate at room temperature for 30 minutes.
You can pan fry, grill, or bake in oven. For this recipe, I prefer to grill on medium heat for about 5 minutes on each side.
While chicken is grilling, cook pasta according to package directions. I used a gluten free corn/quinoa rotini pasta which compliments the dish.
Reserve a cup of pasta water in case you need it.
When chicken is grilled, allow to sit five minutes
Slice avocado.
Toss drained hot pasta with pico de gallo. Add chicken to dish. If pasta seems dry, drizzle in some olive oil and tablespoon or two of pasta water.
Right before serving, add avocado. Squeeze lime. Season with salt and pepper.
Add garnish of chopped cilantro.
You can also add in some queso fresco as an option
Recipe by
Spinach Tiger
at https://spinachtiger.com/mexican-chicken-pasta-healthy/