Grain Free Red Velvet Cupcakes, Healthy Sugar Free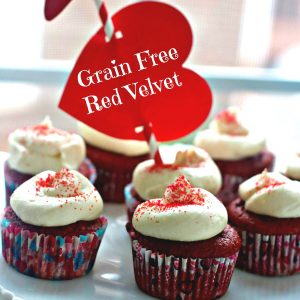 1 cup Swerve Confectioner's Sugar or ⅔ cup regular sugar
½ cup coconut flour
¼ teaspoon baking soda
2 tablespoons unsweetened cocoa
6 eggs, separated
½ cup butter, melted (can use oil)
2 tablespoons full fat sour cream
1 tablespoon red food coloring
1 teaspoon vinegar
1 teaspoon vanilla
4 tablespoons unsalted butter, room temperature
4 ounces cream cheese, room temperature
2 cups confectioner's sugar (I use swerve, see notes)
½ teaspoon vanilla
1 tablespoon milk or cream
Mix dry ingredients together, set aside.
Whip egg whites until stiff. Set aside
Mix together sour cream, red food coloring, egg yolks, vinegar.
Add dry ingredients to sour cream mixture. Add in melted butter.
Add in vanilla.
Mix together.
Fold in egg whites.
You will have enough to make 12 cupcakes.
Bake for 17-19 minutes at 350 degrees.
Cool completely before frosting. These cupcakes taste best refrigerated.
Whip butter and cream cheese together.
Add confectioner's sugar.
Add milk or cream if needed.
Notes: I use swerve (erythritol) for sweetener which is calorie free.
You may use regular sugar for cupcakes and regular confectioner's sugar for frosting if you decide.

This makes a very small amount of frosting, but these cupcakes are small an you don't need a lot.
Recipe by
Spinach Tiger
at https://spinachtiger.com/sugar-free-red-velvet-cupcakes-low-carb-keto-grain-free/