Gluten Free Chocolate cake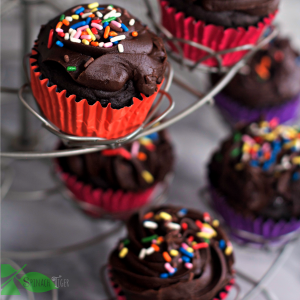 Recipe type:
Gluten Free Dessert
Chocolate Fudge Cake Ingredients
1½ cups (222 g) gluten free flour Order Here
⅓ cup unsweetened cocoa powder (see notes)
¾ cup sugar
½ cup avocado oil (or vegetable oil) Order Avocado Oil here
2 eggs, separated
3 ounces melted dark chocolate Order Here
1 teaspoon gluten free baking powder Order Here
½ teaspoon baking soda
⅓ cup strong coffee or espresso
½ cup buttermilk or milk
2 teaspoons pure vanilla extract Order Here
1 teaspoon salt
Chocolate Buttercream Frosting Ingredients
½ cup unsweetened cocoa (see note)
16 tablespoons butter, softened at room temperature
3½ cups confectioner's sugar (you may need more)
2 tablespoons milk or cream
¼ teaspoon salt
2 teaspoons pure vanilla extract
!Cake Instructions
Separate eggs. Whip egg whites until medium peaks, not completely stiff. Set aside.
Sift together flour, baking powder, baking soda, salt. Set aside.
Melt chocolate in microwave, turning every 30 seconds and stirring,
Sift unsweetened cocoa. Add cocoa to hot coffee or espresso, stir.
Stir into melted chocolate. Add oil. Stir well.
Beat egg yolks with sugar for a few minutes to well incorporate.
Add chocolate mixture.
Add in flour mixture.
Add in milk. Mix for at least one minute.
Add in vanilla. Mix.
Fold egg white mixture in by hand.
Fill cupcake liners ¾ of the way. This will make 12-14 cupcakes.
Bake for 12-15 minutes at 350 degrees F.
Cool completely before frosting.
!Chocolate Buttercream Frosting Instructions
Using a stand mixer or electric beater, whip butter until soft and fluffy.
Sift together 3 cups confectioner's sugar with unsweetened cocoa
Reserve remaining two cups confectioner's sugar if you need it.
Add confectioner's sugar/cocoa mixture a cup at a time. Add salt. Add vanilla.
Add milk as needed to get texture you want.
Use remaining confectioner's sugar if you need it.
Unsweetened Cocoa.
SInce I use a shot of espresso, I use a regular unsweetened cocoa, not extra dark.
Recipe by
Spinach Tiger
at https://spinachtiger.com/gluten-free-chocolate-fudge-cupcakes/