Gluten Free Ricotta Cookies with Glaze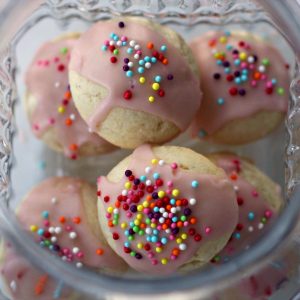 Recipe type:
Gluten Free Cookie
4 cups gluten free flour Order Here
1 teaspoon gluten free baking powder
1 tablespoon gluten free vanilla Order Here
1¾ cups sugar
1 cup unsalted butter, softened at room temperature
15 ounces ricotta cheese
2 eggs
¼ teaspoon freshly ground nutmeg
4 -5 cups confectioner's sugar
2-4 tablespoons pomegranate juice
1 tablespoon orange juice
Mix flour, baking powder, together. Set aside.
Mix together butter and sugar just until mixed. Do not whip to fluffy.
Add eggs and mix just until mixed.
Add vanilla.
Add in ricotta cheese.
Add in flour and mix on medium just until mixed. Do not over mix.
Refrigerate for one hour or freeze for fifteen minutes.
Preheat oven to 350 degrees.
Scoop into tablespoon sized balls.This batter is messy and balls won't be perfect. Chill balls for about 15 minutes. Then re-roll. When using gluten free flour, the cookie batter will not go together smoothly, but re-rolling helps to have a smoother ball and the cookies will be less apt to crack.
Bake for ten minutes at 350 degrees F.
Cool completely before making glaze.
Mix ingredients together and using a fork or mixer, mix until you have an opaque glaze.
Spoon the glaze over each cookie. Immediately use sprinkles. The glaze will dry and you will be able to store the cookies in layers.
You can find recipes for almond glaze and orange glaze
here.
Recipe by
Spinach Tiger
at https://spinachtiger.com/gluten-free-ricotta-cookies-pomegranate-glaze/