Rosemary Bread - Artisan Bread in 5 Minutes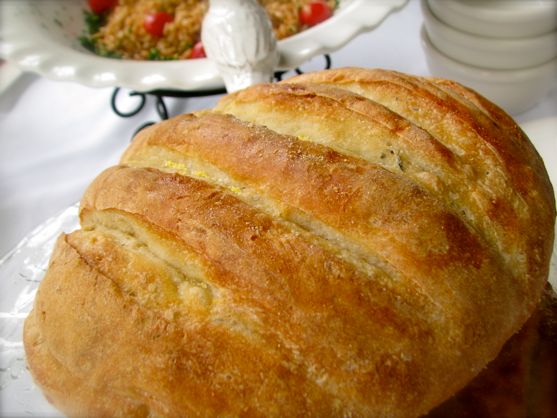 3 cups lukewarm water
1-1/2 tablespoons granulated yeast (1-1/2 packets)
1-1/2 tablespoons kosher or other coarse salt
6-1/2 cups unsifted, unbleached, all-purpose white flour,
 measured with the scoop-and-sweep method
2 tablespoons sugar (my addition, not in original recipe)
2 tablespoons finely chopped rosemary (optional)
Cornmeal for pizza peel
Mix in large bowl with a wooden spoon. Allow to sit for at least 2 hours.
Shape into loaves. Allow to rise for 40 minutes minimum.
Using plenty of flour, make slices into bread using a serrated knife.
This is when I brush away the flour and use egg white so bread bakes a golden brown.
Bake in hot oven in shelf in middle, 450 degrees on baking stone for 25 minutes.
Place bread in oven. Shut door. Open door and put one cup of water onto a tray that has been placed on any other shelf. Follow up with spraying sides of oven with water bottle.
Allow to cool for 15 minutes before cutting.
The scoop and sweep method means measure one cup at a time, merely sweeping with knife. Do not pack flour in a large measuring container, as that will yield too much flour in the recipe.
Recipe by
Spinach Tiger
at https://spinachtiger.com/rosemary-bread-artisan-bread-in-5-minutes/