Plum Upside Down Cake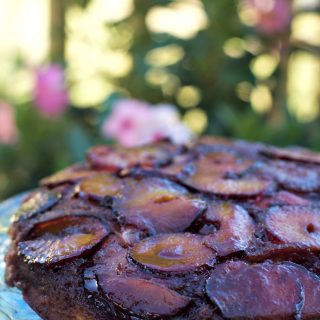 4 tablespoons butter
¾ cups brown sugar
2 pounds plums, pitted, sliced with skins on
½ cup softened butter
1 cup granulated sugar
1½ cups all-purpose flour
2 teaspoons baking powder
½ teaspoon salt
2 large eggs, separated
1 teaspoon pure vanilla extract
½ cup milk
Preheat oven to 350 degrees F.
Get all ingredients in place, measured out and ready.
Melt 4 tablespoons in 10 inch cast iron pan.
Add brown sugar.
When sugar is melted in, add plums in concentric double layer and stir, making sure all plums are saturated.
If you are not baking in cast iron pan, pour brown sugar mixture in 9 inch baking dish and arrange plums.
Whisk dry ingredients, flour, baking powder, salt. Set aside.
Separate eggs.
Beat egg whites until almost stiff. Set aside.
Cream ½ cup softened butter and sugar with a hand mixer or standing mixer. Set aside.
Add egg yolks one at a time to butter and sugar mixture. Beat one minute per egg.
Add in vanilla.
Add in flour mixture and milk in three sessions, ending in flour.
Gently fold in egg whites.
Pour batter over plums. Bake for 45- 50 minutes until tester comes out clean.
Using two pot holders, turn cake onto a flat plate.