Sheet Pan Pizza with Trader Joe's Pizza Dough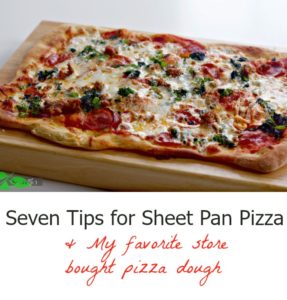 16 ounce pizza dough
1 cup easy pizza sauce
2-3 cups fresh mozzarella cheese
1 cup broccoli rabe (recipe here)
3 links Italian Sausage, cooked, crumbled
2 ounces pepperoni cheese
cornmeal for bottom of pan
1 small can high quality tomato puree
1 tablespoon olive oil
dash salt, pepper
fresh oregano
Take pizza dough out of refrigerator at least 60 minutes in advance.
Preheat oven to from 450 to 550 degrees
Sprinkle sheet pan wth corn meal (to prevent sticking.)
Stretch dough out on sheet pan.
Spread pizza sauce lightly, leaving room for crust.
Place sausage, broccoli rabe and pepperoni in scattered way.
Bake in lowest rack of oven for 15 minutes or until golden brown.
Heat tomato puree with olive oil, salt, pepper.
If you have fresh oregano, add that in.
You can substitute with a dash of oregano, but I usually don't like that heavier taste.
Recipe by
Spinach Tiger
at https://spinachtiger.com/sheet-pan-pizza-trader-joes-pizza-dough/