Chocolate Dipped French Macarons Recipe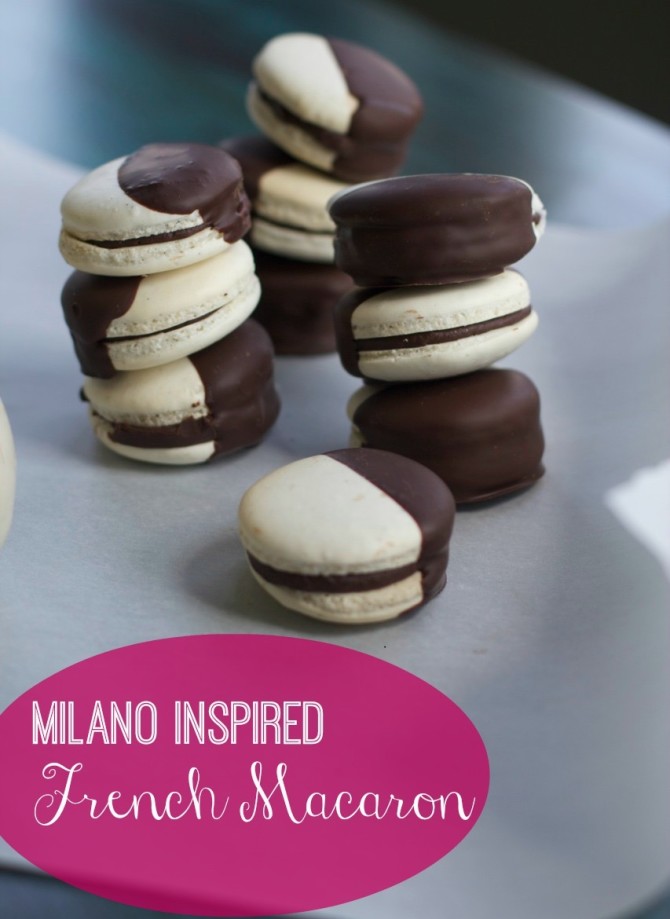 115 grams blanched almond flour
230 grams powdered sugar, sifted
144 grams egg whites room temperature (important to weigh the egg whites; I used 6 small eggs)
72 grams granulated sugar
2 teaspoons vanilla paste (can use scrapings of one vanilla bean or 2 teaspoons vanilla extract)
½ teaspoon sea salt
6 ounces chopped dark chocolate (The darker the better; do not go under 60% cacao - I used Ghiradelli 60% bittersweet, which melt well. See notes
)
½ cup scalded milk
1 tablespoon butter
6 ounces chopped dark chocolate
Mix together almond flour, confectioner's sugar and salt. Whisk until well incorporated. Sift. Set aside.
Beat the egg whites for a total of 10 minutes, gradually adding sugar as instructed below. This is best done with a Kitchen Aid type mixer, but you can use an electric hand held mixer.
Add 1 tablespoon of granulated sugar to the egg whites and beat for 4 minutes on number 4 or medium-low speed.
Begin to add more sugar gradually and beat for 3 more minutes on number 7 or medium-high speed.
Continue to add in the sugar to completion and beat on number 8 for 3 more minutes. Beat for 1 more minute on highest speed, adding in the vanilla.
Add the egg white mixture to the dry ingredients using your largest spatula, folding the mixture together. Fold no more than 40 times. The egg whites will deflate a bit and that's fine. The texture should be like a running lava, not a pancake batter. Do NOT stir. Fold.
Put into a piping bag with a plain ½ inch tip and pipe onto your circles, piping from the side. On my second batch I used a tip made for cake batter and that worked super well.
Give each baking tray a good bang on the table three times to get the air out. Rest for 60 minutes. By this time, the macaron is flattened, which is a good thing, as this will help to prevent a hollow macaron.
Bake at 300°F for 16 to 18 minutes. Spin the pan around in the oven at 8 minutes. Check to see if they are done by lifting a macaron up with parchment and trying to pull away. The macaron should pull completely away when done. Remove from parchment paper and cool on baking tray.
Put chocolate in small bowl. Pour scalded milk over the chocolate and let sit for one minute. Stir from center in small circle until all the chocolate is melted. Add in butter, continue to stir until melted.
Allow to cool before filling. If you have left over ganache, you can freeze it or refrigerate for another use.
Chop and melt chocolate in saucepan double boiler over simmering water. The best way to dip the macaron is to put the chocolate into a very small container.
Once macarons are completely cool, fill each with ganache.
Dip halfway into melted chocolate. Place on parchment paper. Once chocolate hardens, refrigerate for a few hours to overnight before serving. Take out one hour before serving. Macarons can also be frozen and thawed in three hours.
Yield: 40 shells to make 20 macarons
Use the best chocolate you can find no less that 60% cacao. 70% is preferred; however, Ghiradelli makes a 60% chocolate chip that melts well and tastes good. Other grocery store chocolate chips will not perform well.
Recipe by
Spinach Tiger
at https://spinachtiger.com/chocolate-dipped-french-macarons-recipe/