Carrot Ginger Soup for a Healthy Heart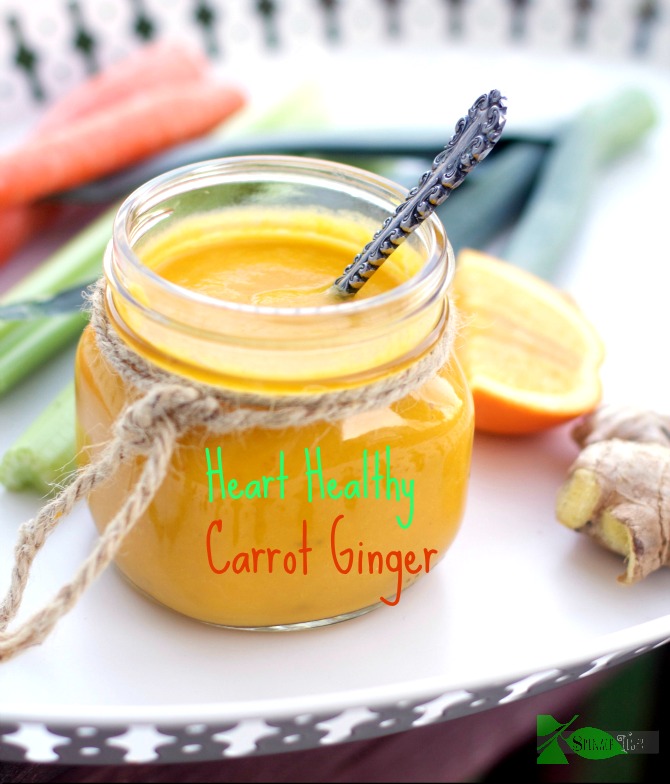 2 pounds organic carrots, peeled
1 golden beet, peeled (optional)
1 onion
2 cups coarsely chopped celery
1 onion roughly chopped
1 inch piece fresh ginger, minced
1 garlic clove, minced
handful fresh herbs such as parsley, thyme
1 navel orange, peeled
6 cups water
salt
pepper
Chop carrots and goldent beet into approximately 3 inch pieces.
Add half of the onion and 1 piece of celery to cold water with the carrots.
Bring to boil, reduce heat to medium boil and continue to cook until carrots are nearly soft.
In the meantime, heat olive oil in saute pan.
Add onion and chopped celery until softened.
Finely chop the herbs.
Add in herbs, ginger and garlic and cook for five minutes.
Season with salt and pepper.
Add cooked carrots and beets with the vegetables from the pot to the vitamix.
Add in the vegetables from the pan.
Add one cup of the broth.
Mix until well incorporated.Add more broth as necessary until you get the consistency you want.
This will give you four servings.
Optional: You can make this brighter and sweeter by adding to the vitamix a whole navel orange peeled. This is recommended if you add in the beet.
Recipe by
Spinach Tiger
at https://spinachtiger.com/heart-healthy-carrot-ginger-soup-recipe/