Super Spinach Greek Salad with Salmon and Lemony Dressing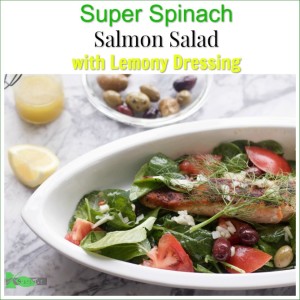 1 package super spinach salad by Organic Girl or 4 large handfuls of any Spinach Greens
2 pieces of salmon (6 ounces each, approx.)
1 tablespoon extra virgin olive oil (or coconut oil)
1 tomato, cut into one inch pieces or cubed
¼ cup diced fresh fennel or feta cheese
kalamata olives
red onion (optional)
1 teaspoon fresh oregano (or ¼ teaspoon dried oregano)
1 clove garlic, minced
1 teaspoon dijon mustard
¼ cup red wine vinegar
¼ lemon (for juice)
½ cup extra virgin olive oil
salt
pepper
Heat olive oil in small frying pan on medium heat.
Oil is ready when a drop of water sizzles.
Place salmon in pan skin side up.
Cook for 5 minutes or until the salmon easily moves in pan.
Turn over and cook for 2-3 minutes until skin is crispy.
Toss greens with just enough dressing to coat.
Top with tomatoes, fennel, olives (and optional feta cheese and onion).
Top with salmon.
Mix mustard with vinegar until incorporated.
Add lemon juice.
Add olive oil until emulsified.
Season salad with salt and pepper, oregano.
Recipe by
Spinach Tiger
at https://spinachtiger.com/super-spinach-greek-salad-with-salmon-and-lemony-dressing/