Lemon Pistachio Biscotti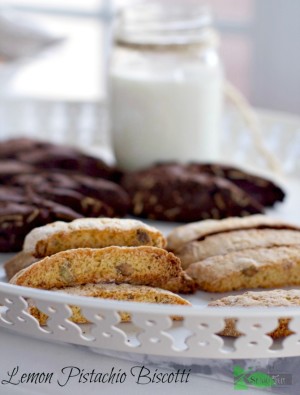 1¾ cups unbleached all purpose flour, plus more for dusting
¾ cup plus 1 tablespoon sugar
1½ teaspoons baking powder
¼ teaspoon fine sea salt
¾ cup finely chopped lemon peel
¾ cup shelled, unsalted pistachios
3 large eggs, lightly beaten
Heat oven to 350 degrees F.
Line a baking sheet with parchment paper or use a silpat
Whisk together flour, sugar, baking powder and salt.
Stir in candied lemon and nuts.
Add in eggs until incorporated.
Divide dough into 3 separate rolls, 9 inches long 1½ inches wide.
Bake logs for 25 minutes, rotating halfway through.
Allow to cool five minutes. Transfer to cookie rack to cool completely.
Slice diagonally, using a serrated knife into ½ inch slices.
Bake standing up for 20 more minutes.
Store for up to 2 weeks in airtight container.
Peel strips from each lemon, cutting away any white pith.
Immerse in sugar for four hours or longer.
Chop finely when dried enough.