Italian Ricotta Christmas Cookies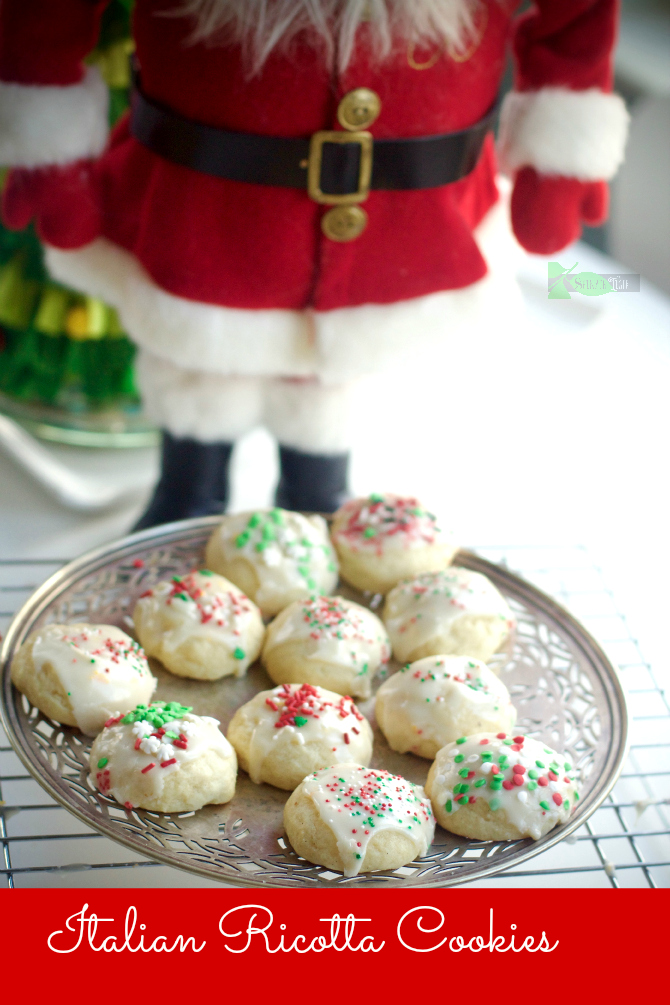 This recipe contains Amazon Affiliate links which earn a small commission.
1 cup unsalted butter, softened at room temperature
1¾ cups granulated sugar
2 eggs
15 ounces ricotta cheese
1 tablespoon vanilla paste (or vanilla extract) Order Here
4 cups all-purpose flour
1 teaspoon baking soda
1 teaspoon baking powder
¼ teaspoon freshly grated nutmeg Order Here
Nutmeg Grinder Order Here
4-5 cups confectioner's sugar
4-5 tablespoons orange juice!
2 tablespoons milk
2 cups confectioner's sugar
few drops of almond extractOrder Here
Sprinkles
Preheat oven to 350 degrees F.
Cream butter until smooth. Add sugar and cream.
Add eggs and incorporate.
Add vanilla.
Add ricotta cheese
Mix together dry ingredients with a whisk.
Add dry ingredients to ricotta mixture. Mix well.
Roll or scoop into tablespoon-sized ball. You can make the cookies smaller. I like this larger size.
Place on ungreased cookie sheet and bake for 8-10 minutes until the bottoms of cookie are golden brown.
Allow to cool for a few minutes. Remove to a rack.
Place a piece of parchment paper under rack.
Glaze cookies. Add sprinkles. Order Here
Mix confectioner's sugar with orange juice or freshly squeezed orange until you have a glaze the consistency thick enough to not run down the sides.
Sprinkle immediately.
Mix together milk with almond extract.Go gently on extract. Taste as you go. 1 cup of confectioner's sugar per tablespoon of iiquid.
Note: In total, the cookies will need 4-5 cups confectioner's sugar to make enough glaze if you use a thick glaze like I do.
If you need gluten free, this transfers well with a good gluten free flour. I prefer Bob's Red Mill one to one flour.
Recipe by
Spinach Tiger
at https://spinachtiger.com/italian-ricotta-cookies-with-video/