Chocolate Biscotti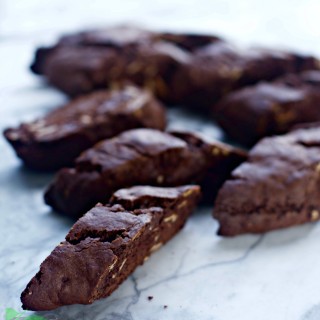 Recipe type:
Dessert Cookie
2 cups all purpose flour
1 teaspoon baking soda
1 teaspoon sea salt
½ cup unsweetened cocoa
6 tablespoons unsalted butter
1 cup sugar
2 eggs
1 teaspoon vanilla extract or 1 tablespoon orange liquor
¾ cups chocolate chips
1 cup sliced almonds
Preheat oven to 350 degrees F.
Mix dry ingredients together and set aside.
Cream together butter and sugar.
Add eggs.
Add vanilla or liquor.
Add in flour mixture a little at a time.
Add in chocolate chips and nuts.
Divide into two sections.
Roll each section to about 12 inches long.
Bake for 25-30 minutes.
Cool for at least 30 minutes.
Slice diagonally into ¾ inch slices.
Bake again, standing up for another 10 minutes.