Bourbon Caramelized Apple Hand Pies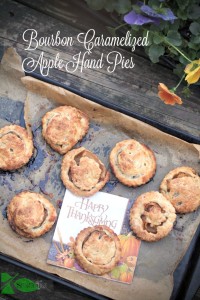 8 cups sliced Granny Smith apples
1 tablespoon cinnamon
¼ cup white sugar
1 tablespoon instant tapioca
dash nutmeg
juice of ½ lemon
¼ cup white sugar mixed with 1 tablespoon cinnamon
1¼ cups brown sugar
½ cup butter
½ teaspoon salt
2 tablespoons bourbon
2 tablespoon milk or cream (for brushing over pie before baking)
raw sugar (for dusting top of pie)
2½ cups all purpose flour (see gluten free option here)
1 teaspoon salt
2 teaspoons sugar
15 tablespoons unsalted butter
4 to 6 tablespoons iced cold water (enough to make dough shaggy)
Peel and slice apples. I like them on thin side.
Mix with lemon, ¼ cup cinnamon sugar or enough to coat all apples.
Add in tapioca, (it serves as the thickener).
Melt butter in large frying pan.
Add in brown sugar.
Once it's melted into the butter, carefully add in bourbon (optional). 'Have a lid ready to cover as it may spike.
Cook for about 5-8 minutes.
Add in more cinnamon to taste.
Cool. Refrigerate overnight for best flavor.
Place flour and cubed butter into freezer for 30 minutes.
Using a food processor, mix flour, salt and sugar for a few seconds to evenly disperse.
Add butter evenly in food processor. Mix on medium low speed for 10 seconds or until the butter is evenly dispersed, but still in tiny parts. You might want to
Slowly add in the water and mix for 3-5 seconds. It will not look ready, but you can test this by pinching the mixture together and it should hold. If not add in one more tablespoon water. Pour this mixture into a plastic ziploc bag. Form together and refrigerate for at least one hour. It will magically turn into pie dough.
Take out and allow to rest 15 minutes. Flour the dough and roll out.
This will make enough pie dough for a double crusted pie or 12-20 hand pies, depending on size.
Take pie crust out of refrigerator. It will take about 15 minutes to warm up.
Roll out on a floured surface. Use cookie cutter to cut discs into four inch rounds, smaller if you like.
Brush the bottoms with milk. Add 1 to 3 teaspoons apple filling (depending on size) to middle.
Before you place the top. put a slit or use another cutter to make a decorative imprint, making sure to have a steam vent on top. This helps prevent filling from spilling out sides.
Put top on; press edges together.
Brush with milk and sprinkle with raw sugar.
Bake at 400 degrees F for 12-15 minutes or until golden brown.
See notes on freezing.
You can prepare these and freeze before baking.
Bake frozen, but remember to brush with milk and sprinkle sugar.
You can also pre-bake and freeze.

Note 2: I note it takes about 30 mins ACTIVE Prep time, but I like to refrigerate the pie dough and apples overnight. You do not have to, but I think dough is easier to work with and apples taste better.
Recipe by
Spinach Tiger
at https://spinachtiger.com/bourbon-apple-pie-spice-with-caramelized-apple-hand-pies/