Apple Cheddar Rosemary Biscuits and the Things I Never Saw Myself Doing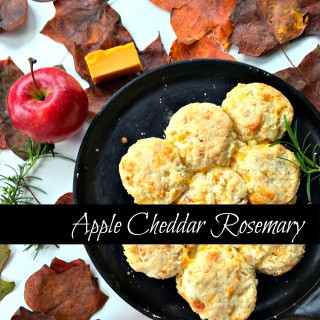 5 tablespoons butter
1 cup diced apples
2 cups all purpose flour (or soft wheat flour)
1 tablespoon baking powder
1 teaspoon salt
1 teaspoon sugar
1 teaspoon chopped fresh rosemary
1 cup shredded extra sharp cheddar cheese
¾ to 1 cup buttermilk
Preheat oven to 450 or 425 if you have true convection oven.
Dice 4 tablespoons butter into cubes and place in freezer.
Use one tablespoon to saute apples.
Dice apples (you can leave skin on if using apple such as gala)
Saute for five minutes in just enough butter to soften. Remove from pan and cool.
Mix dry ingredients together. Flour, sugar, salt, baking powder, rosemary. Whisk well.
Add grated cheese to flour mixture.
Add cold butter and either using hands or a pastry cutter (or fork) blend butter into flour mixture, but only until butter is pea sized. Do not smear butter into flour. As the butter melts, the biscuits become more flaky in oven.
Add buttermilk up to ¾ cup and mix with wooden spoon. You want a wet, shaggy dough. Use all the remaining buttermilk if dough seems too dry.
Pat down into about an 8 inch disc and cut out approximately 8 medium sized biscuits.
Place biscuits on cold cast iron griddle, pan on on baking sheet, touching.
Bake for 12-15 minutes or until golden brown.
Recipe by
Spinach Tiger
at https://spinachtiger.com/apple-cheddar-rosemary-biscuits-and-the-things-i-never-saw-myself-doing/