Sweet Corn Ice Cream with Blueberry Swirl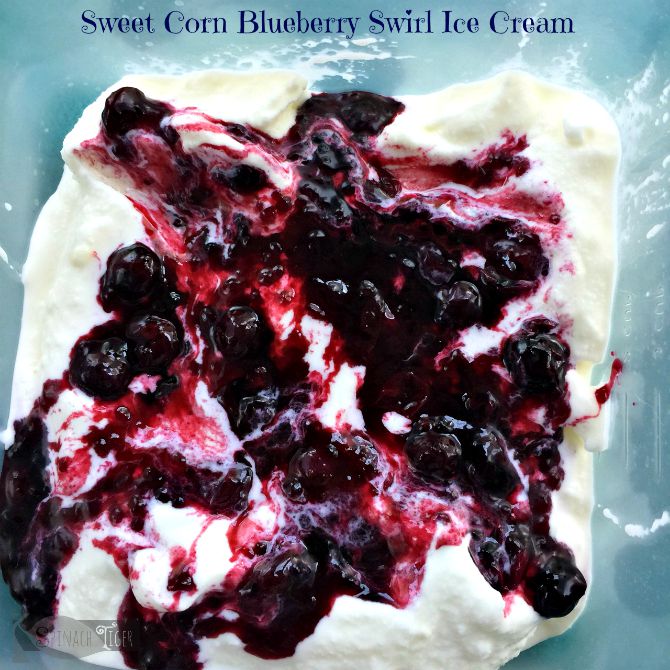 1 ear sweet corn, husked
4 teaspoons corn starch
2 cups whole milk, divided (using 2 tablespoons and then remaining)
1 cup heavy cream
1½ ounces cream cheese, softened (3 tablespoons)
¼ teaspoon fine sea salt, (more for final touches)
½ cups sugar (original is ⅔ cups)
1 tablespoon light corn syrup (original is 2 tablespoons)
4 quart sauce pan (or larger)
whisk
medium size stainless or heat proof bowl
gallon size zip lock type bag
large stainless steel bowl with ice (for ice bath)
ice cream machine
Slice kernels off cobb, squeeze the corn milk into a bowl. Reserve corn and liquid.
Whisk cream cheese and salt in medium bowl. Reserve.
Make slurry with corn starch and 2 tablespoons of the whole milk.
Combine remaining milk, cream, sugar, corn, corn juice, corn syrup in 4 quart pot.
Bring to boil. Boil four minutes.
Strain this liquid through a sieve, discarding the corn.
Bring back to a boil for one minute. Gradually whisk in the corn starch. Remove from heat.
Pour into the bowl with the cream cheese. Whisk until incorporated.
Pour ice cream liquid into a plastic zip lock bag.
Chill over an ice bath for 30 minutes. Get mixture very cold.
Take through your ice cream machine.
When it's time to freeze, layer the sweet corn ice cream with the blueberry sauce.
Freeze for a minimum of 4 hour.
I reduced the sugar and corn syrup from original recipe because my corn was very sweet and I'm not fond of super sweet ice cream. At first I reduced only the corn syrup by half, but it was still too sweet, so then I reduced the sugar by ⅓.
Recipe by
Spinach Tiger
at https://spinachtiger.com/sweet-corn-ice-cream-with-blueberry-swirl/