Roasted Brussels Sprouts with, Almonds, Dried Cherries, Blood Orange Olive Oil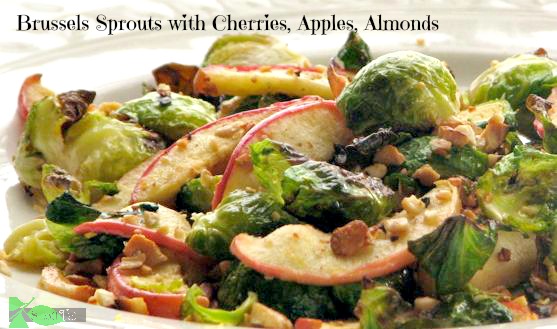 Recipe type:
Vegetable Side Dish
1 pound of brussels sprouts
blood orange olive oil (or use zest below and a squeeze of orange)
zest of half of small orange
1 tablespoon dried cherries (can use cranberries)
½ cup slivered almonds
splash champagne vinegar
Cut off bottom core of brussels sprouts and rinse thoroughly in cold water.
If brussels sprouts are small and of the same size, score at opened end with an x. If you purchased on the stalk and sizes vary, cut in half or quarters to attain an even size for roasting. Toss in olive oil. If using unflavored olive oil, see note).
Season with salt and roast in oven at 375 degrees on flat baking sheet or a cast iron pan for 5 minutes.
Turn and add in almonds and dried cranberries and bake for another 4 minutes to 6 minutes.
Remove from oven and add a splash of champagne vinegar and toss.
Season with salt and pepper.
If you don't have a blood orange olive oil, add some orange zest to your olive oil and allow to sit for 30 minutes. Add in a squeeze of juice over the brussels sprouts once you have tossed them in olive oil.
Recipe by
Spinach Tiger
at https://spinachtiger.com/roasted-brussels-sprouts-with-almonds-dried-cherries-blood-orange-olive-oil/