Pan Fried Salmon with Shoe String Sweet Potatoes, Crispy Kale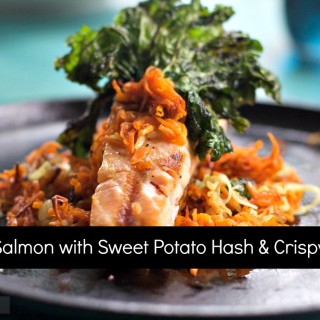 1 pound salmon
chili oil
1 large sweet potato
5 kale leaves
coconut oil
salt
pepper
2 tablespoons sriracha
2 tablespoons mayonnaise
INSTRUCTIONS
Heat oil in pan on medium high heat.
Remove bones from salmon. I run my finger up against the bones and they pop forward. Remove with tweezer or your fingers.
Season with salt and pepper.
Let it rest at room temperature for 20-30 minutes, although this is not necessary if time is an issue. Douse with chili oil, fire oil, or any spice you prefer.
Place in hot pan skin side down.Turn heat to medium. Cook 5 minutes.
Turn over. Cook for 3 minutes.
Peel and slice with julienne or spiral slicer. You can do this by hand or use this tool.
Use enough coconut oil in heavy dutch oven or frying pan to cover one layer of potatoes.
Fry on medium high heat, watching carefully that they don't burn. Turn frequently. Fry for about five minutes until crispy enough.
Remove and drain on paper towels.
Fry kale in same oil for about 30 seconds or until crisp.
Mix together equal amounts of sriracha and mayonnaise.
Assemble and serve with a spicy mayonnaise.
Recipe by
Spinach Tiger
at https://spinachtiger.com/my-best-grilled-salmon-recipe-with-shoe-string-sweet-potatoes-crispy-kale/