Strawberries and Cream Biscuits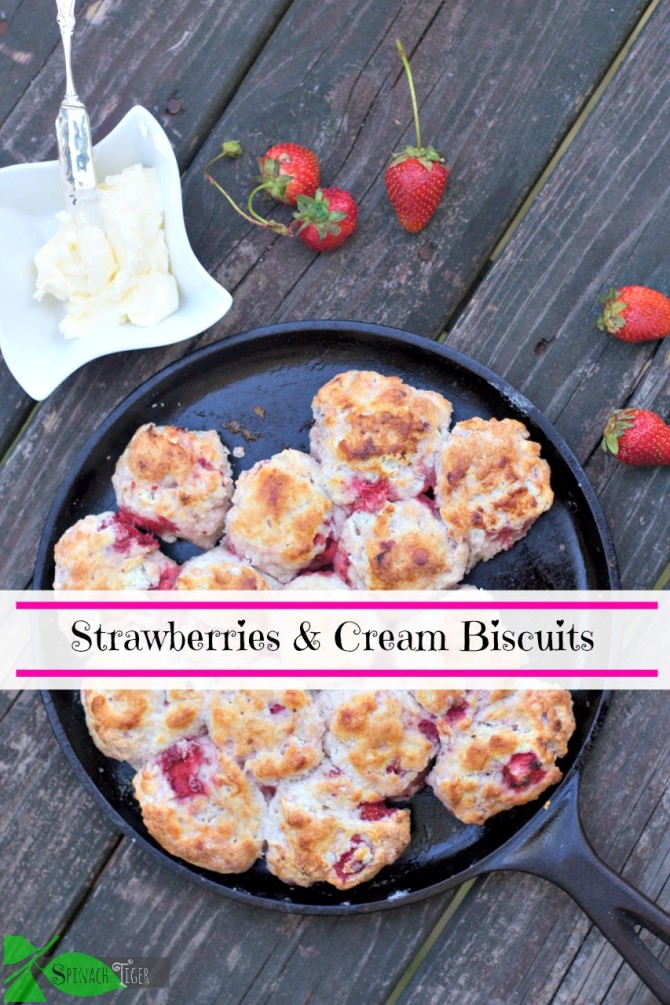 6 tablespoons unsalted butter
2 cups all purpose flour, carefully measured (see notes) more for dusting (can use White Lily)
¼ cup sugar
1 tablespoon baking powder
1 teaspoon salt
2 cups strawberries
¾ cup heavy cream
¼ cup buttermilk (can use 1 cup heavy cream and skip buttermilk)
Cut butter into small pieces. Freeze for 15 minutes. If frozen longer, leave out for a few minutes to warm up. You want the butter hard and cold, but not so hard you can't mix it.
Mix heavy cream with buttermilk. Set aside.
Prepare strawberries. Trim stems off, cut into quarters, depending on how large strawberries are. You want them the size of small raspberries. Flour them. Set aside.
Whisk together flour, salt and sugar, baking powder.
Add butter and with your hands or pastry cutter, cut the butter allowing it to remain in large enough chunks to melt in oven. (I have a biscuit video under videos on side bar category).
Add strawberries, making sure they are covered with flour and be very gentle.
Add in cream mixture and stir with wooden spoon.
Dough will be very sticky. Flour your hands and bring together into a disc about 8 inches wide.
Cut biscuits with sharp biscuit cutter.
Place one inch apart on baking sheet or baking stone.
Bake at 450 degrees F for 15 minutes.
This is the only biscuit I make that I don't recommend touching. The cream makes the dough extra moist and the center biscuits don't cook as well. If you do put them in the oven touching, cook them five minutes longer.
Recipe by
Spinach Tiger
at https://spinachtiger.com/strawberries-and-cream-biscuits/