Grilled Pork Chops with Fennel Coriander Rub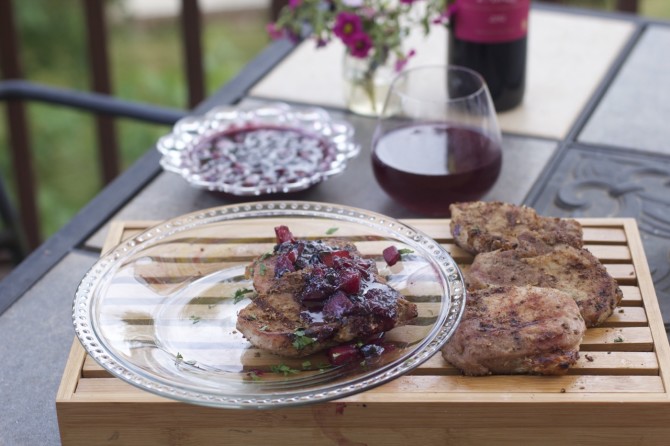 8 boneless ribeye pork chops
Brine (see recipe below)
Dry rub (see recipe below)
Blueberry Peach Compote (recipe below)
salt, pepper
3 cups water
3 tablespoons sugar
3 tablespoons salt
1 tablespoon fennel seed, toasted
2 teaspoons coriander seed, toasted
½ teaspoon black pepper
2 teaspoons sea salt (optional)
!Blueberry Peach Compote Ingredients
2 tablespoons butter
1 cup chopped peaches (can use frozen, defrosted)
1 cup blueberries (can use frozen, defrosted)
4 tablespoons finely chopped shallots
2 tablespoons balsamic vinegar (or white wine or white vinegar) See notes.
dash salt
black pepper
Brine pork chops in water, sugar, and salt mixture for 20 minutes. In the meantime, make the compote and aromatic rub. ((Do not brine longer than 60 minutes).
Heat Grill to high (400 degrees).
Rub with olive oil and sprinkle on dry rub.
Spray grill with a grill spray or wipe some oil on grates.
Place chops on grill. Turn after 5 minutes. Grill 3 more minutes. Let sit for 3 minutes.
Pork should be cooked no more than 145 degrees to maintain tenderness. Pork continues to cook, and it's suggested to test with a meat thermometer at 135, and allowing to rest.
Serve with blueberry peach compote below.
Defrost fruit. You can put frozen peaches in microwave for 30 seconds. Chop. Sprinkle 2 teaspoons sugar over each peaches and blueberries. If fruit is fresh, you may use less sugar.
Heat butter in sauce pan. Add shallots, peaches and blueberries until cooked through about two minutes.
Add balsamic vinegar, dash salt. Bring to boil, reduce heat to low, continue to cook for about 15 minutes or until liquid is reduced. Smash blueberries with fork.
Grind fennel seed in small food processor or magic bullet. You can also crush inside of a plastic bag and use mallet. Toast in small frying pan for about 60 seconds, stirring. Add in coriander powder, black pepper and sea salt.
Shopping List:
Pork Chops
Ground Coriander
Fennel Seeds
Frozen Blueberries (or fresh)
Frozen Peaches (or fresh)
Balsamic Vinegar (You can substitute a dry vermouth, white wine, or wine vinegar.

Pantry Items
Olive oil
butter
sugar
salt
black pepper
Recipe by
Spinach Tiger
at https://spinachtiger.com/grilled-rib-eye-pork-chops-with-blueberry-peach-compote/