Strawberry Sundae Recipe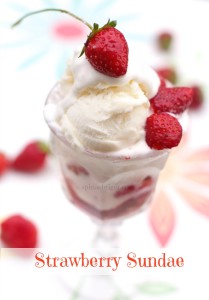 2 quarts fresh strawberries
1 cup water
2 tablespoons sugar
½ strawberry puree
8 small scoops vanilla ice cream
whipped cream
10 ounces frozen or fresh strawberris
2 tablespoons sugar
Prepare fresh strawberries. Trim and cut into quarters or halves if they are small. Place in a cup of water with sugar and allow to sit for at least an hour.
Taste for sweetness. Add more sugar if necessary.
Assemble by putting puree in bottom of sundae dish add ice cream, strawberries, puree and more ice cream with fresh strawberries.
Top with whipped cream.