Blackberry Cheesecake and How to Make Blackberry Sauce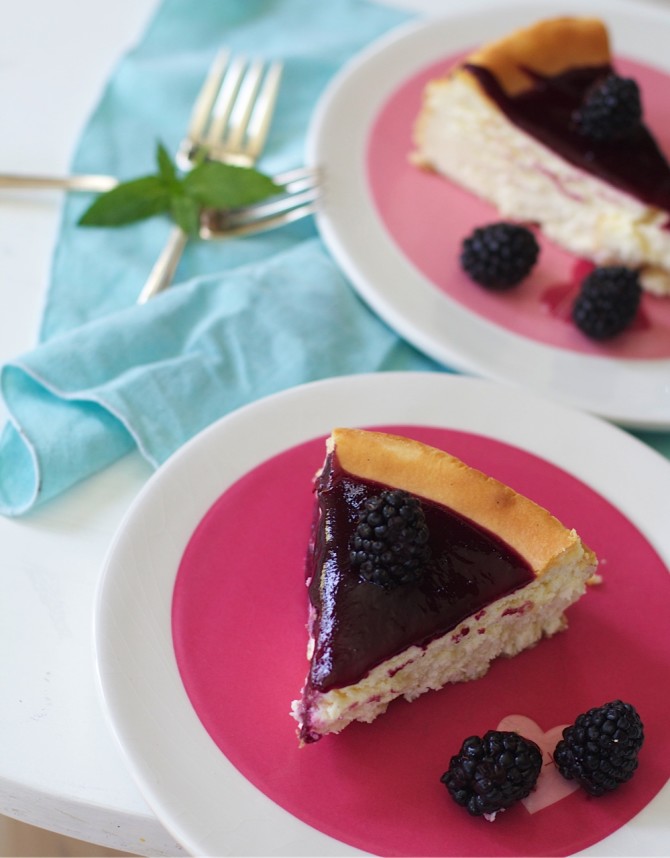 1 cup flour
¼ teaspoon sugar
1 teaspoon lemon rind
½ cup (1 stick) butter
1 egg yolk, lightly beaten
¼ teaspoon vanilla
5 8-ounce packages cream cheese
¼ teaspoon vanilla
1 teaspoon grated lemon rind
1 ¾ cups sugar
3 tablespoons flour
¼ teaspoon salt
5 eggs
2 egg yolks
¼ cup heavy cream
3 cups blackberries (fresh or frozen
¼ cup water
½ cup sugar (more if blackberries are very tart)
Preheat oven to 400 degrees.
Mix lemon zest into the sugar with your hands to increase fragrance. Add flour. Mix. Cut in butter, mix in egg and vanilla.
Pat ⅓ of doug into bottom of 9-inch springform pan with sides removed. Bake 6 minutes until golden.
Cool, attach sides to pan. Butter sides and pat the sides with remaining dough.
Increase oven to 475.
Use room temperature cream cheese.
Beat cream cheese until fluffy Add vanilla and lemon rind.
Mix together flour, sugar, salt. Blend into cream cheese mixture.
Beat in eggs and yolks, one at a time.
Pour into prepared pan. Bake for 8-10 minutes.
Reduce oven to 200 degrees. Bake for one hour or until set.
Turn oven off. Keep cheese cake in oven with door open.
Cool on a rack.
Chill before serving.
You can pour blackberry sauce over entire top of cheesecake or on individual servings. Serve with a few whole blackberries for garnish.
put blackberries, sugar, water into small sauce pan.
Cook over low heat until reduced and thick enough. Cool completely before serving.
Recipe by
Spinach Tiger
at https://spinachtiger.com/how-to-make-a-cheesecake-and-blackberry-sauce-recipe/