Cooking Italy: Bolognese Sauce with Fresh Pasta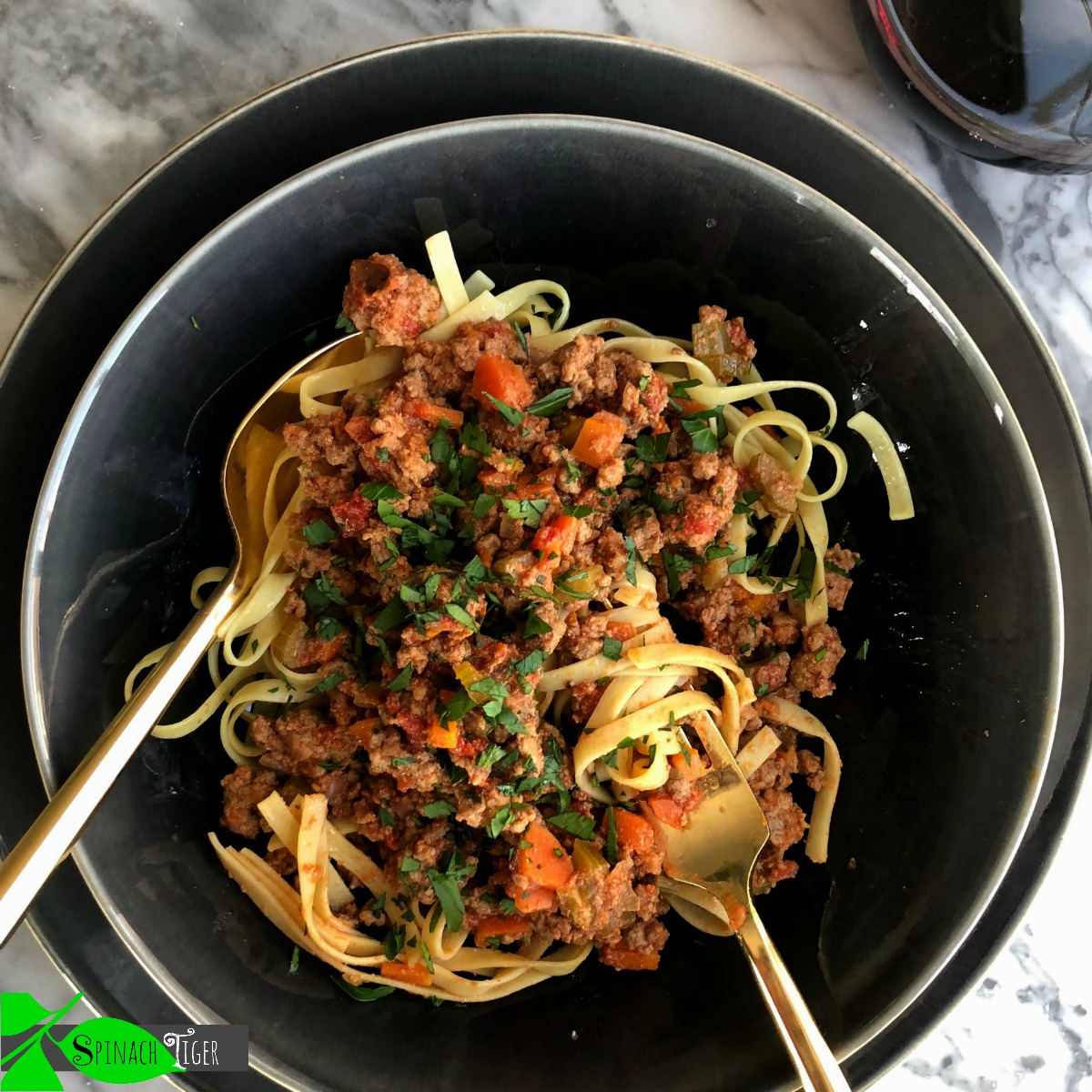 2 tablespoons vegetable oil
6 tablespoons butter plus 2 T for tossing pasta
1 cup chopped onion
1⅓ cup chopped celery
1½ cup chopped carrot
1½ pounds ground beef chuck mixed with salt and pepper before cooking
(meat should not be too lean, ask for neck portion of chuck)
salt
black pepper, freshly ground
2 cups whole milk
whole nutmeg, ¼ t
2 cup dry white wine
3 cups canned imported Italian plum tomatoes with juice, chopped
2 bay leaves
2 pounds pasta
freshly grated parmigiano-reggiano cheese at the table
On medium heat, add oil, butter, onion, until translucent.
Add celery, carrots, cook 2 minutes, stirring, not browning. Add meat, break up with fork, and when no pink color is showing, add milk.
Turn down heat to simmer, stirring frequently until milk has evaporated. Add nutmeg. Add wine, stirring thoroughly. Once wine has completely evaporated, add tomatoes, and simmer on very very low stirring every now and again. If sauce dries out, add ½ cup water a time. Cook for a minimum of 3 hours. I think 4-6 hours is better.
Taste and season with salt, pepper.
This recipe is a double batch, which I recommend, as you will eat it all. You can freeze, or make other dishes with it, such as bolognese sliders.
Recipe by
Spinach Tiger
at https://spinachtiger.com/cooking-italy-bolognese-sauce-with-fresh-pasta/