Beef and Veal Stew Shepherd's Pie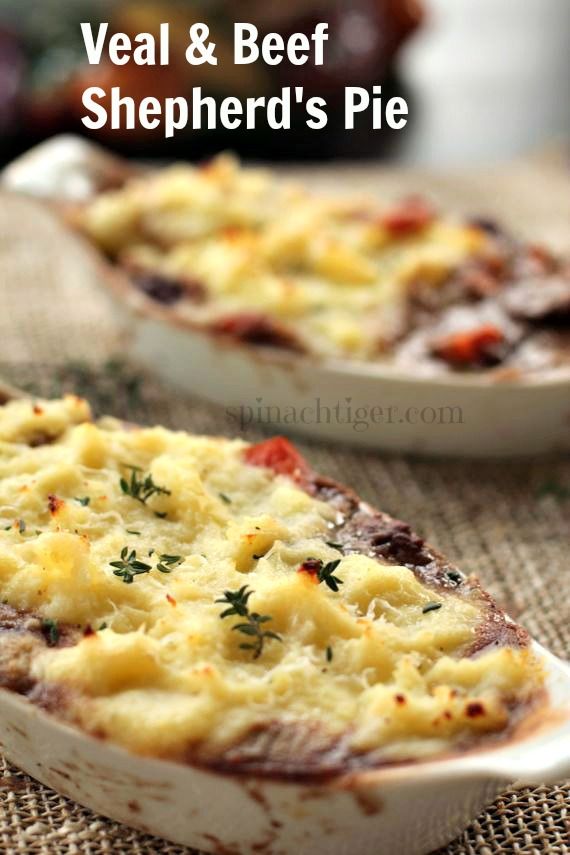 1 lb. boneless rib eye, cut into 1" cube
1 pound veal cubes (optional, if you don't use veal, use 2 pounds of rib eye steak)
2½ cups Burgundy red wine
1 tablespoon olive oil 2 medium onions, ½" dice
2 large carrots, peeled, ½" dice
3 stalks celery, ½" dice
2 teaspoons tomato paste
1½ tablespoons flour
2 cups veal stock (see recipe below)
Salt and pepper to taste
½ cup grated manchego cheese (original recipe uses gruyere)
• 2 cloves garlic
• 1 sprig rosemary
2 sprigs thyme
3 stems parsley
1 bay leaf
6 peppercorns, crushed
veal bones
1 large onion, quartered
2 carrots, cut in large pieces
few sprigs of thyme
salt, pepper
six cups cold water
2 pounds white potatoes, peeled (some love yukon golds for a creamier texture.
2 teaspoons salt (for water)
4 tablespoons melted butter
6 to 8 tablespoons whole milk
splash of cream (optional)
salt, white pepper to season
dash nutmeg (about three gratings)
Cut the veal off the bone and make the veal stock below. Cut the rib eye into small cubes, discarding the fat.
Cover the cubed veal pieces and rib eye with the wine and marinate for 3 hours.
Put sachet ingredients into a piece of cheesecloth. Prepare vegetables.
After three hours, remove meat from wine. Reserve wine and reduce in sauce pan with salt and pepper. Set aside.
Add olive oil to large pot or dutch oven. Sear meat on both sides. Remove and set aside, reserving enough fat in pot to saute the vegetables.
Add onion, celery and carrots and saute for four minutes. Add in tomato paste. Cook for two minutes and add meat. Sprinkle in the flour and cook until four is dissolved. Add wine, veal stock and sachet.
Cover and simmer very low for two hours. Season to taste.Put stew into baking pan.
Top with mashed potatoes and manchego cheese.
Bake at 400 degrees, on top rack for 15 minutes or until cheese is bubbling.
Cut away the bone from a veal shoulder. Reserve meat for recipe above. Place bones, carrots, onion and thyme on shallow roasting sheet. Season with salt and pepper.
Roast at 400 degrees for 45-60 minutes, or until vegetables are caramelized.
Place in large pot with 6 cups of cold water. Add bay leaf, fresh sprig of thyme. Simmer for 2-4 hours or until reduced to 2 cups of broth. You might need to add in some cold water if broth is reducing too fast. Taste along the way.
Peel potatoes, and cut into quarters and cut again. Rinse in cold water. Put just enough cold water in pan to cover potatoes by two inches.
Add 2 teaspoons salt. Bring to boil and then simmer until fork tender. Drain and put back into pot and add butter. Season with salt and pepper.
Scald milk. Smash potatoes with fork or old fashioned masher tool and add a few tablespoons of hot milk and three tablespoons of the butter. Mix with a wooden spoon.
Take through the ricer and return to the pan. Turn the heat on low and add the rest of the milk a little at a time and use wooden spoon to stir.
Add nutmeg. Stir again. Add in last tablespoons of butter. Taste and season again with salt and pepper if necessary.
Recipe by
Spinach Tiger
at https://spinachtiger.com/beef-and-veal-stew-shepherds-pie-2/