Tiny Cake for Two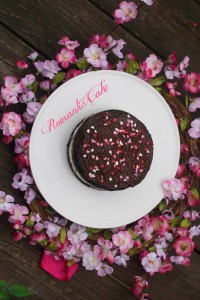 2 six inch cake pans
1½ plus 2 tablespoons flour
¾ cup unsweetened cocoa
1½ teaspoons baking soda
¾ cups brown sugar
¾ cups white sugar
6 ounces butter 1½ sticks
1½ cups buttermilk
1 teaspoon vanilla
2 large eggs
1 cup whipped cream
2 teaspoons cream cheese
1 tablespoon confectioner's sugar
GANACHE FROSTING
8 ounces bittersweet chocolate
6 ounces heavy cream
1 teaspoon pure vanilla extract
Sift together cocoa, flour, baking soda, salt into a bowl.
Put flour mixture all the rest of the ingredients in mixer and mix for 3 minutes.
Pour into cupcake pans or three cake pans.
Bake at 350.
Layer cakes take anywhere from 20-35 minutes.
Do not UNDER bake. Do a touch test. The cake should spring back to be done.
Allow to completely cool before
Freeze cakes for 30 minutes.
Put whipped cream between layers.
Top with Ganache
Beat heavy cream, cream cheese and confectioner's sugar until stiff peaks. Refrigerate for 30 minutes before using.
Put whipped cream in center of the two layers.
Top (only the top, not the sides) with chocolate ganache or chocolate frosting.
Top with sprinkles.
Chop chocolate into small pieces.
Bring heavy cream to boil.
Pour over chocolate. Let it sit unstirred for five minutes.
Stir, staring in center and remain in center. I like to use a honey dipper for this but you can use a mini-whisk. Just stay in center, keep stirring, until all chocolate is incorporated into cream.
Stir in vanilla, and cool.