Triple Layer Chocolate Fudge Cake with Whipped Cream Middle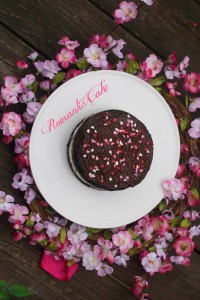 3⅓ cups (422 grams) all purpose flour
1⅓ cups unsweetened cocoa powder (half dark unsweetened, half regular unsweetened cocoa powder) (or mix the intensity of chocolate as you prefer.
1 tablespoon baking soda
1⅓ cup brown sugar
1⅓ cups sugar
1 teaspoon salt
12 ounces butter (3 sticks)
3 cups buttermilk
2 teaspoons vanilla
5 eggs
2 cups whipped cream
1 tablespoon cream cheese
2 tablespoons confectioner's sugar
Sift together cocoa, flour, baking soda, salt into a bowl.
Put flour mixture all the rest of the ingredients in mixer and mix for 3 minutes.
Pour into cupcake pans or three cake pans.
Bake at 350.
Layer cakes take anywhere from 35-50 minutes.
Do not UNDER bake. Do a touch test. The cake should spring back to be done.
Allow to completely cool before
Freeze cakes for 30 minutes.
Beat heavy cream, cream cheese and confectioner's sugar until stiff peaks.
Put whipped cream in center of the two layers.
Top (only the top, not the sides) with chocolate ganache or chocolate frosting.
Top with sprinkles.
Refrigerate. Take out 30 minutes before serving.
Recipe by
Spinach Tiger
at https://spinachtiger.com/triple-layer-chocolate-fudge-cake-video/