Easy Individual Chocolate Molten Cakes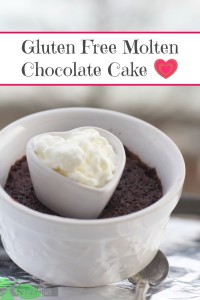 ½ cup (113 grams) unsalted butter, cut into pieces
6 ounces (170 grams) semi-sweet or bittersweet chocolate, finely chopped (high quality)
3 large eggs, separated
⅓ cup (65 grams) granulated white sugar
1 teaspoon pure vanilla extract
⅛ teaspoon cream of tartar
1 tablespoon granulated white sugar
Preheat oven to 400 degrees.
Butter 4 6-8 ramekins. Dust with granulated sugar (which helps them rise).
In a heatproof bowl, melt chocolate and butter, using a double boiler (over a pan of simmering water). You can make this by placing a stainless steel bowl or smaller sauce pan inside a larger saucepan. You don't want the pan to touch to water.
Once melted, set aside to cool.
Using electric mixer beat egg yolks with ⅓ cup of sugar until the eggs are golden and creamy.
Add vanilla.
Add chocolate mixture.
Separate eggs in two bowls.
Whip the egg whites until frothy.
Add cream of tartar and whip until soft peaks forms.
Add sugar and continue to whip until you have stiff peaks.
Gently fold the egg whites into the chocolate mixture.
Do not over mix.
Pour into the sugared cups.
Bake for 10-15 minutes. The outside will get done before the middle.
Remove from oven while middle is still wobbly.
Serve with ice cream or whipped cream.
Recipe by
Spinach Tiger
at https://spinachtiger.com/individual-gluten-free-chocolate-molten-cakes-and-an-idea-for-valentines-dinner/