Lemon Chess Pie Recipe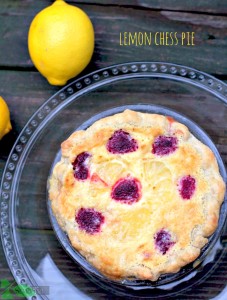 4 organic lemons
2 cups of sugar
¼ teaspoon salt
3 tablespoons flour
4 tablespoons melted butter
1 teaspoon vanilla
Handful of fresh or frozen raspberries (can use blueberries) (optional)
1 tablespoon sugar (for berries)
1½ cups flour
9 tablespoons ice cold unsalted butter, cubed
1 tablespoon sugar
½ teaspoon salt
2 tablespoons ice cold water (might need one more)
Zest all lemons into sugar.
Slice off the white pith of all the lemons.
Reserve one whole lemon, and put in freezer for 15 minutes.
Slice that lemon and put in separate bowl, with just enough of the zested sugar to cover. Cover with plastic. Refrigerate.
Slice remaining three lemons and put into the remaining sugar, making sure all lemons are covered.
Refrigerate for a minimum of 24 hours.
Refrigerate berries with sugar.
Make Pie Dough (below). Refrigerate until ready to use.
After 24 hours, remove lemon/sugar mixture from refrigerator. (the one with the three lemons)
In a food process or Vitamix type blender, add lemon sugar mixture, eggs, vanilla, flour and mix well.
Add melted butter. Mix again.
Take pie dough of refrigerator, and roll out into your pie pan or tart pan.
Fork holes into pie dough.
Prebake pie dough at 400 degress for 10 minutes. You shouldn't have any trouble with it rising off the pie pan. Just gently move it down with back of a spoon if it rises.
Pour lemon mixture into the pie crust.
Take out the sliced lemon and remove from the sugar. This is garnish.
Decorate top with sliced lemons and raspberries.
Bake for 40-45 minutes at 375 degrees.
Incorporate flour, sugar and salt in food processor. Add butter and count to 10. At this point, you should have pea sized butter. If not, pulse until you do.
Add water. Pulse until incorporated. A few seconds at a time.
Put in plastic bag. It will come together. (see video)
When ready to roll out, leave on counter for 15 minutes.