Not So Naked Roasted Quinoa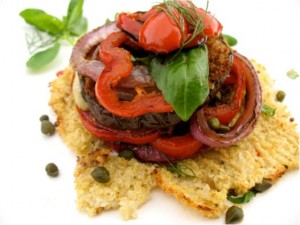 3 cups uncooked quinoa
6 cups salted water
¾ cups grated parmigiano reggiano
2 tablespoons capers
extra virgin olive oil
Sea salt, freshly ground pepper
1 fennel bulb, sliced crosswise
1 red bell pepper, seeded, sliced crosswise (optionally use red and green)
I small eggplant, sliced, sweated,
1 egg beaten (for eggplant) (skip if grilling eggplant)
½ cup panko breadcrumbs (skip if grilling eggplant)
1 red onion, sliced cross wise
A few torn basil leaves or several thyme sprigs removed from stem or parsley
sea salt
freshly ground pepper
Rinse several times really well. This is an important step to rid quinoa of soapy saponin which, if not rinsed well, will emit a bitter taste.
The ratio for cooking is 2 parts water to 1 part quinoa.
Once rinsed, add to salted water, bring to boil, lower heat, cover and simmer for 15 minutes.
Once cooked, add ½ C parmigiano reggiano, a drizzle of olive oil, season with salt and pepper.
Allow to cool enough so you can handle.
Use a cast iron pan, pizza stone, or parchment paper and baking sheet.
Press quinoa with palm of your hands, keeping it together in one form, about ¾ inch high.
Roast quinoa in hot oven of 425 degrees.
Turn after 10-15 minutes once you see edges browning. Don't worry about keeping it all
together. Just use as large a spatula as you have and turn it over to
continue until the top is toasted.
Brush with olive oil and grill either on grill pan, or outside gas grill until done.
Sweat eggplant first by salting both sides then placing on paper towels for 30 minutes.
Rinse off excess salt. Dry.
Eggplant is dipped into egg and then panko and fried in pan until crispy on both sides.
Optionally, grill eggplant.
Arrange vegetables stacks, using either one layer of quinoa or alternating quinoa with some of the vegetables, adding in capers. Add in herbs of choice
Optional Garnish: Add a drizzle of olive oil if necessary, and some grated cheese.
Serve immediately or at room temperature.
This is best eaten at room temperature, or warm.
Recipe by
Spinach Tiger
at https://spinachtiger.com/purple-food-not-so-naked-roasted-quinoa/