Chocolate Chip Cookies without Eggs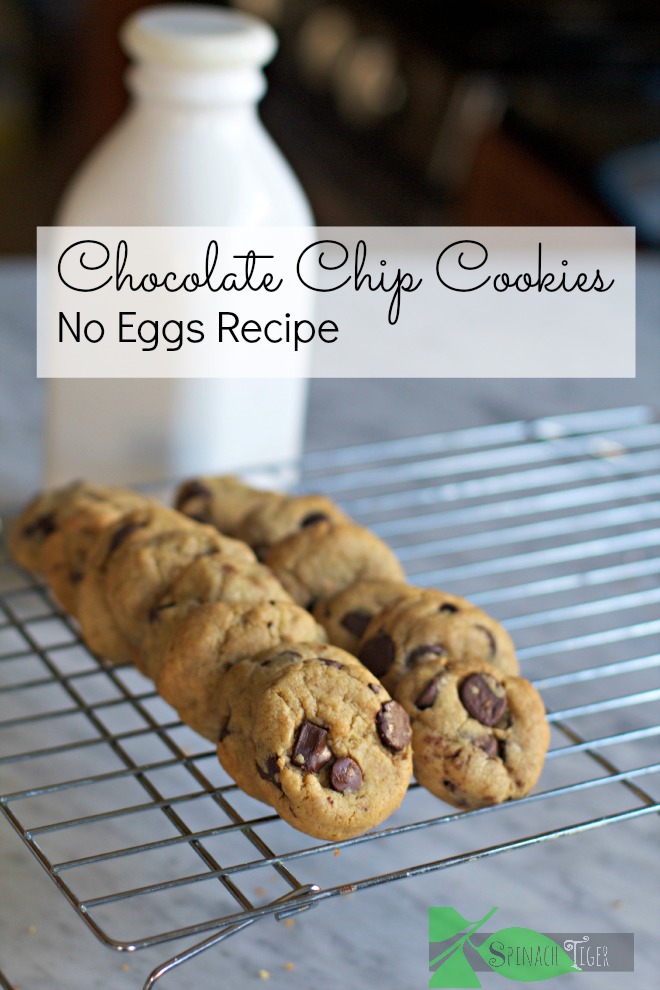 2 tablespoon ground flax seed
6 tablespoons water
1 cup butter, unsalted, melted
1 cup brown sugar
½ cup white sugar
1 tablespoon vanilla
2½ plus 2 tablespoons cups all purpose flour
1 teaspoon baking soda
1 teaspoon sea salt
2 cups of chopped chocolate or chips
½ cup toasted, chopped walnuts (optional, but I think necessary)
Mix ground flax seed with the water and set aside. It will congeal in about ten minutes.
Cream butter and sugars together. Add the ground flax seed mixture.
Add vanilla.
Mix dry ingredients in separate bowl together
Add flour mixture to wet ingredients.
Add in chocolate, nuts and thoroughly incorporate.
Refrigerate for 30 minutes up to overnight. You can freeze dough at this point.
Spoon onto ungreased cookie sheet. It doesn't matter what size you make as long as the size is consistent.
Bake 9-11 minutes at 375. (Adjust baking time if cookies are larger than a teaspoon).
Recipe by
Spinach Tiger
at https://spinachtiger.com/chocolate-chip-cookies-without-eggs/