Make Ahead and Freeze Cornbread Dressing Recipe with Homemade Cornbread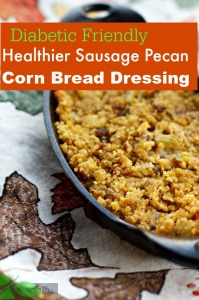 2¼ cup corn meal medium grind
1¾ cups spelt flour or all purpose flour
1 tablespoon baking powder
pinch baking soda
2 tablespoons sugar (optional)
2 teaspoons salt
5 tablespoons butter, diviided 3,2
2 cups buttermilk
2 eggs
3 cups diced celery
2 cups diced onion
6 tablespoons butter (can use olive oil)
8 cups cornbread (you have option of mixing in white bread half and half with corn bread)
4 cups chicken broth
16 sage leaves (or 2 teaspoons dried sage)
2 tablespoons of freshly chopped parsley
2 extra large eggs or 3 small, beaten
½ cup chopped pecans
⅔ pound sage sausage or country sausage, cooked and crumbled into bite size pieces.
Mix dry ingredients (corn meal, flour, baking powder, salt, sugar)
Add dash of baking soda to buttermilk. Mix with eggs and 3 tablespoons melted butter.
Gently mix wet ingredients into dry.
Heat 10 inch cast iron pan with 2 tablespoon butter in oven.
Carefully pour mixture into pan.
Bake for 30 minutes. Cool.
Crumble or break into pieces the cornbread. Allow to sit out and dry for two days. Or, place on two shallow cookie sheets and bake for 10 minutes, turning once.
Melt butter in large dutch oven.
Add onion and celery and cook until softened.
Add in nuts and chopped herbs.
Cook a few minutes. Add in 3 cups of chicken broth, reserving fourth cup.
Put corn bread in large bowl.
Add crumbled sausage.
Pour broth mixture over the cornbread. Allow to sit and absorb. You will know if you need to add more broth, especially if you like a more moist dressing.
Place into baking dish and bake at 375 for 25-30 minutes.
Recipe by
Spinach Tiger
at https://spinachtiger.com/cornbread-dressing-recipe-with-homemade-cornbread-low-glycemic-diabetic-friendly/