Thanksgiving Roast Chicken, Zuni Cafe Style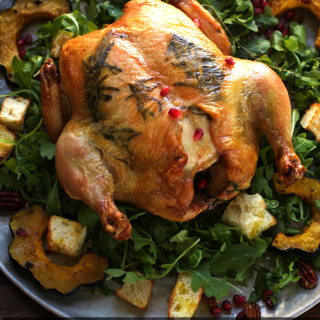 1 4-pound organic chicken
salt
fresh herbs such as rosemary, sage, thyme (I used all three)
8 oz. Tuscan bread or similar peasant style chewy bread with crusts cut off, torn in pieces
salt freshly ground pepper
6 tablespoons olive oil
2 tablespoons champagne vinegar (or white vinegar)
2 tablespoons pine nuts or pecans (or nuts of choice)
½ pomegranate (optional)
1 tablespoon golden raisins or dried currants
arugula or other green such as frisee
1 tablespoon red wine vinegar or as needed
3 tablespoons chicken broth or lightly salted water
¼ cup slivered scallions
2-3 garlic cloves
Three days in advance (can be less) clean chicken, salt inside and outside. Loosen skin between breast and as much as leg and thigh you can without ripping skin.
Wrap loosely in plastic wrap or plastic bag. Refrigerate.
Take chicken out one hour before roasting.Stuff chicken with herbs underneath the skin.
Preheat oven to 450 F. If making the bread salad, now is a good time to toast the torn bread pieces.
Heat a cast iron frying pan in oven for at least 10 minutes. You can use a baking sheet, but cast iron pan is perfect for this high heat.
Put chicken in heated pan, breast side up.
Turn chicken over after 25 minutes, at which time chicken should easily yield. If not cook a little longer.
I like to turn the chicken back over for the last five minutes. Chicken should be golden brown. Allow to cool for 10 minutes before carving.
This can be made prepped while chicken is in the oven.
Brush bread with olive oil. Toast bread and nuts until golden, about 5 minutes.
Combine olive oil with champagne vinegar.
Put currants or raisins in red wine vinegar to moisten. Set aside.
When ready to assemble toss bread and arugula with olive oil mixture.
Toss bread with olive oil mixture.
Saute scallions and garlic in a little olive oil. Add currents or raisins and add to the bread salad.
Drizzle some of the pan juices (from the chicken) onto the bread salad. Season with salt.
Put chicken on platter with bread salad.
Serve with optional pomegranate garnish, and roasted squash.
Baked squash recipe can be found here.
Recipe by
Spinach Tiger
at https://spinachtiger.com/thanksgiving-roast-chicken-zuni-cafe-style-from-legendary-judy-rodgers/