Easy Almond Pear Tart with Shortbread Crust, the Perfect Dessert for a Wine and Cheese Party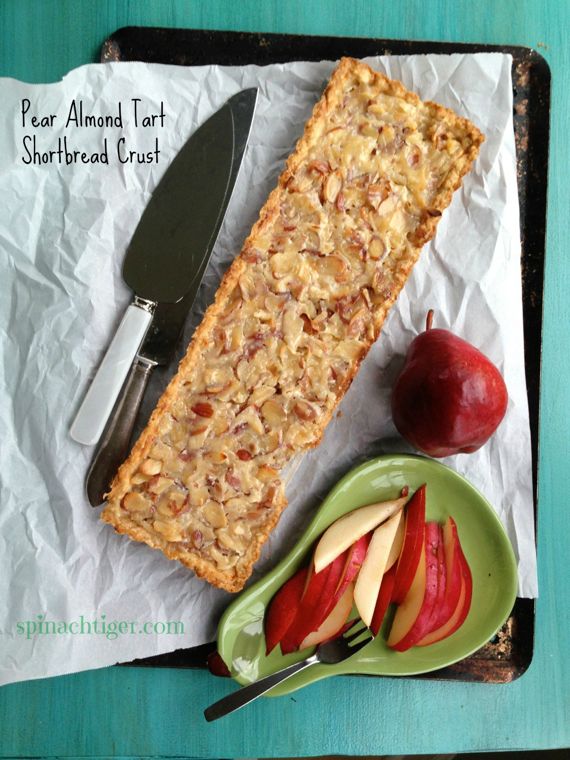 1¼ cup flour
1 tablespoon sugar
½ teaspoon salt
8 tablespoons of frozen butter, cubed
1 egg
½ teaspoon of lemon zest
1 tablespoon iced cold water
shortbread crust (as above)
2 pears, ripened, peeled, cut into cubes
¾ cup sugar
1¼ cup heavy cream
2 tablespoons bourbon
1 teaspoon vanilla
¼ teaspoon pure almond extract (go lightly)
1 cup slivered almonds
Add in the frozen butter and mix in food processor for 10 seconds. Add egg. Add in cold water and mix in processor until a dough is formed.
Wrap in plastic and refrigerate for at least one hour.
Take out, allow to warm up for 10 minutes.
Put into a tart pan. You will probably use your fingers to press into pan.
Refrigerate for 15 minutes. Use fork to put holes into dough.
Bake for 8 minutes 425. Reduce to 400 and bake for 12 minutes.
Heat cream, pears, bourbon, sugar until cream becomes translucent.
Add almonds. Allow to sit for 15 minutes.
Pour into prepared pan with removable bottom. You may have some left over.
Bake at 400 for 25-30 minutes. Put another pan below as it may bubble over.
Serve at room temperature. Allow to cool or the shortbread crust will fall apart
Recipe by
Spinach Tiger
at https://spinachtiger.com/easy-almond-pear-tart-with-shortbread-crust/