Italian Sauce Recipe with Veal, Tomato, White Wine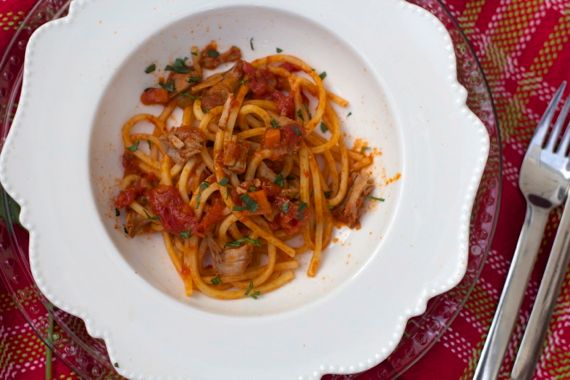 1 pound veal shoulder (hopefully with some bone)
2 tablespoons flour
2 tablespoons olive oil
2 tablespoons butter
1 cup of chopped onion
3 carrots, cubed
3 celery sticks, diced
2 garlic cloves, diced
1½ cups meat broth (or chicken broth)
1 cup white wine
1 large can (about 3 cups) of chopped canned San Marzano Italian plum tomatoes
1 sprig of fresh rosemary
handful fresh Italian parsley
2 sprigs fresh thyme
Parmigiana reggiano
3-4 fresh sage leaves (optional)
1 pound spaghetti or wide noodle pasta order here
Flour veal, brown in pan with olive oil. Set aside.
in heavy bottomed pan saute onion, celery, carrots in butter. After five minutes, add garlic.
Add wine, and deglaze pan.
Add broth and herbs.
Place veal over vegetables.
Add tomatoes and herbs.
Braise for three hours on very low in dutch oven at 300 degrees or in crock pot. You can also do simmer on top of stove, until veal falls apart.
Remove herbs. Discard.
Remove veal. Trim fat and bone and flake into pieces to be place back into sauce.
Cook pasta according to directions. Use a very large pot for your pasta. This will give you a good ratio of boiling water to pasta and the water will reboil quicker. Salt the pot with 2 tablespoons salt right before you put the pasta in the water. Do not overcook. The pasta should have a firm bite, not snappy, but firm.
Toss with sauce and serve with fresh parmigiana reggiano cheese.
Recipe by
Spinach Tiger
at https://spinachtiger.com/italian-sauce-recipe-with-veal-tomato-white-wine/