Pumpkin Cake with Pumpkin Maple Cream Cheese Frosting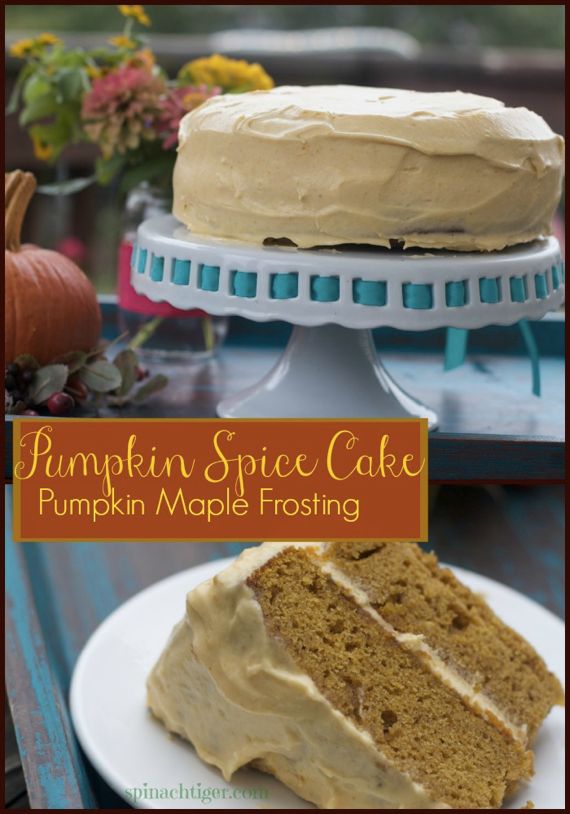 2 cups all-purpose flour
1 tsp. baking powder
1 tsp. baking soda
1 tsp. salt
1 tablespoon pumpkin pie spice
¼ teaspoon Chinese 5 spice
1 cups brown sugar
1 cups granulated sugar
1 cup unsalted butter, melted
4 large eggs, room temperature
1 teaspoon vanilla
2 cups of pumpkin puree
½ cup butter, room temperature
12 ounces cream cheese, room temperature
¼ teaspoon maple extract or 2 teaspoons pure maple syrup (skip vanilla)
1 teaspoon vanilla (order here)
⅓ cup pumpkin puree
1 teaspoon Chinese Five Spice or Pumpkin Pie Mix
1 teaspoon vanilla (order here)
⅓ cup pumpkin puree
4 cups powdered sugar
!Kitchen Tools
Kitchen Aid Mixer (order here)
Cake Plate (order here)
Parchment Paper (order here)
Mix first six ingredients together with a whisk. Sift. Set aside.
Mix sugars together. Add melted butter.
Add eggs one at a time and mix thoroughly.
Add vanilla.
Alternately, add flour mixture and pumpkin mixture, finishing with flour.
Prepare two 9 inch baking pans with butter and flour.
Pour evenly into pans (I use a scale).
Bake at 350 for 30-35 minutes.
Whip together cream cheese and butter.
Add pumpkin and maple extract.
Add in vanilla.
Add spice to the pumpkin puree.
Add confectioner's sugar a cup at a time.
Whip until thoroughly mixed together.
Cool Cake completely. Freeze for 15 minutes.
Frost with crumb frosting, barely skimming the cake.
Freeze each cake again for 15-20 minutes.
Frost cake. Put one inch high of frosting on first layer. Place second layer on top. Frost cake.
Refrigerate.
Take out 30 minutes prior to serving.
Recipe by
Spinach Tiger
at https://spinachtiger.com/pumpkin-cake-with-pumpkin-maple-cream-cheese-frosting/