Summer Chicken Soup with Yellow Squash, Corn, Kale, Avocado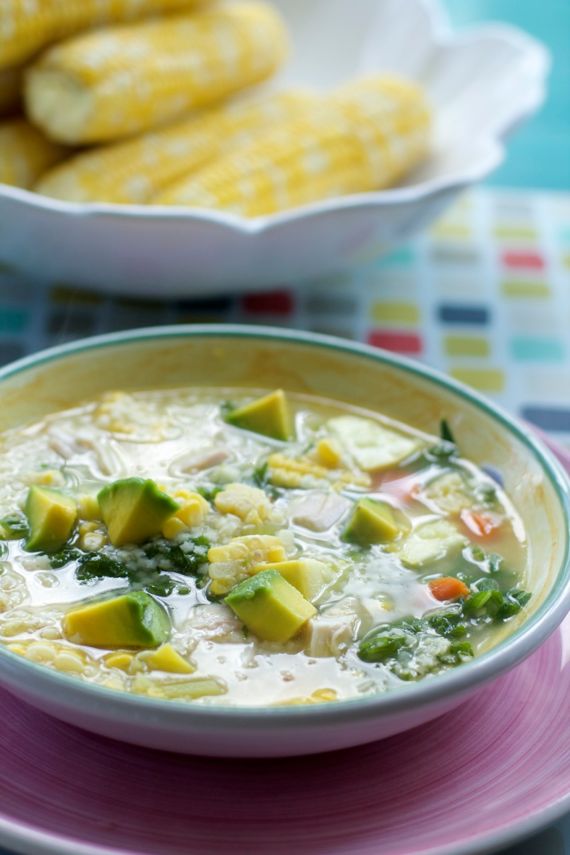 8 cups Chicken Stock or broth (see note) or canned broth
2 cups soup pasta such as stars, pastina or noodles
2 cups chopped cooked chicken
sprigs of thyme
2 carrots
2 celery
2 yellow squash, diced
2 cups kale
1 avocado as garnish
2 ears of corn, shucked, cooked (see below)
chopped parsley
Rinse corn and microwave four minutes, by placing damp cloth or wet paper towels over corn.
It will easily release and be cooked.
You can either make a fresh chicken broth with this recipe above or used canned. If you make your own chicken broth, use a whole chicken, boil just until the chicken is cooked and then remove. Take meat off chicken, place bones back in to continue making the broth.
Cook noodles separately, and cook corn separately.
Once broth is done, remove all bones and herbs.
Add in squash, kale.
Serve in bowls, adding chicken, corn, avocado and fresh parsley.
Cook time can be greatly reduced if you use store bought chicken broth and a rotisserie chicken.
Recipe by
Spinach Tiger
at https://spinachtiger.com/summer-chicken-soup-with-yellow-squash-corn-kale-avocado/