Kale Biscuits Sandwich with Bacon, Beets and Blue Cheese Mayonaise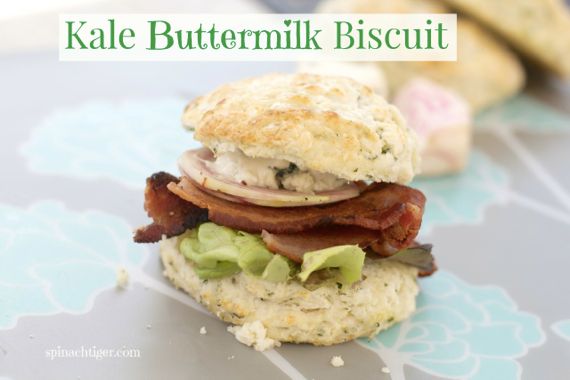 6 Kale biscuits
6 pieces butter Lettuce
12 pieces crispy bacon
12 slices of raw beets
6 tablespoon mayonnaise
6 tablespoon blue cheese
2 cups soft wheat flour (or all purpose)
3 tablespoons finely chopped raw kale
1 tablespoon baking powder
1 tablespoon sugar
1 teaspoon salt
6 tablespoons cold butter
1 cup buttermilk
pinch baking soda
Layer mayonnaise, lettuce, bacon, beets.
Mix all dry ingredients together. Whisk well.
Add in kale. Mix well.
Add in butter, and mix with pastry blender or hands until you have small pea size pieces.
Add pinch of baking soda to buttermilk.
Add in buttermilk and mix with wooden spoon. Dough will be sticky.
Flour hands and pat down. Use extra large cutter and make six biscuits.
Bake on cast iron or cookie sheet at 450 for 16 minutes.
Recipe by
Spinach Tiger
at https://spinachtiger.com/kale-biscuits-sandwich-with-bacon-beets-and-blue-cheese-mayonaise/